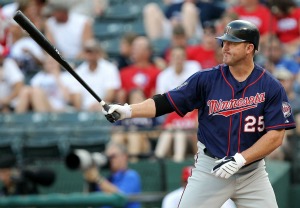 By C. Trent Rosecrans
We here at Eye on Baseball have bemoaned the lack of excitement about Jim Thome's 600 homers several times, but apparently there is at least one company that's… uh… excited… by Thome's feat, NuVo condoms.
This release hit the inbox of a CBSSports.com editor:
Jim Thome has reason to celebrate today after hitting his 600th homerun last night versus the Detroit Tigers. As a congratulatory gift for Thome's incredible feat, NuVo sent the Minnesota Twins 600 condoms. NuVo hopes this offering to the team will help keep the Twins players and their partners safe during their celebrations. The Minnesota Twins
aren't the only people that the NüVo team is looking out for – NüVo has already distributed over 200,000 free condoms this year alone. You can always hit a home run with NuVo Condoms!
Sure, it's a cheap stunt in hopes of getting blogs to write about their product (success!), but, yeah… hey, if they think Jim Thome can help sell them condoms, more power to them, I guess. Anyway, this is the same company that sent a "year supply" of condoms to Justin Bieber, so it's hardly new to the publicity stunt game.
For more baseball news, rumors and analysis, follow @eyeonbaseball on Twitter or subscribe to the RSS feed.