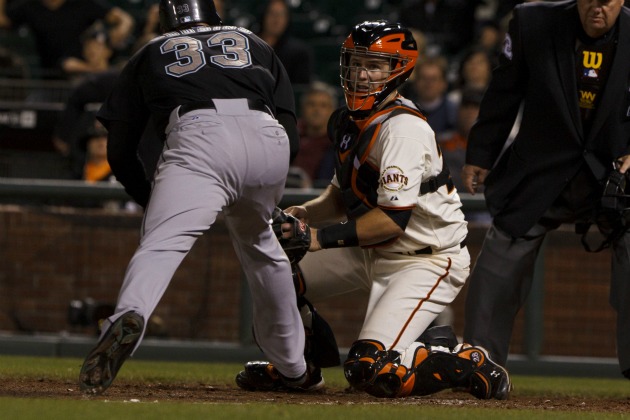 By C. Trent Rosecrans
Just when we thought we'd heard the end of the Buster Posey injury, the Giants are headed to South Florida.
For the first time since May, the Marlins and Giants will meet. You may remember Scott Cousins ran over Posey and ended the season of the reigning Rookie of the Year. In May, the Giants talked about Cousins, retribution and the rest. Well, that's not going to be a problem.
"We've moved on," Bruce Bochy told reporters, including Andrew Baggarly of the San Jose Mercury News. "We have bigger things to be worried about. That's trying to win and get to the postseason. What happened is behind us."
After a 3-7 home stand, the Giants take to the road as the second-place team in the National League West, a half-game behind the Diamondbacks.
Also, Cousins won't be a target, because he's on the 60-day disabled list with a back injury.
The Giants say they've moved on, so maybe we all can as well. Or at least let's hope.

(Also, that's just an awesome picture from Jason O. Watson of US Presswire.)
Signs, signs, everywhere there's signs: Blue Jays fans had some fun with the report of Toronto stealing signs. The Star in Toronto has a good photo gallery of signs the fans brought to Thursday's game.
Fast company: Justin Verlander recorded his 100th win on Thursday in his 191st career start, making him the 13th fastest to the 100-win mark since 1919. [Baseball-Reference.com]
Holliday break: St. Louis outfielder Matt Holliday missed his second consecutive game with a back injury on Thursday, but may be ready to play Friday. Holliday is unlikely to go on the DL. [MLB.com]
Good Reed: The Cubs may be having another rough season, but outfielder Reed Johnson is having an outstanding year. He's hitting .349/.389/.566 with five homers in 75 games. In five starts since coming back from back stiffness, Johnson has gone 11 for 21 and is making himself part of next season's plans. However, he is a free agent after this season. [Chicago Sun-Times]
Vandy bound: Blue Jays first-rounder Tyler Beede will not sign with the Blue Jays, Jonathan Mayo of MLB.com reports. Beede, a right-handed starter, told teams before the draft that he wasn't going to sign, but the Blue Jays took a chance on him. He will be eligible to be drafted again in 2014.
Real fight: Usually baseball fights are millabouts with some shoving and little else. Not in the independent North American Baseball League. The league infamous for Jose Canseco and the Lake County Fielders, has another claim to shame -- the fight between former big leaguers Mike Marshall (the manager of the Chico Outlaws) and Tony Phillips. From the Los Angeles Times, here's the fight in which the 51-year-old Marshall suffered facial injuries.
Cop unhappy with Rays: The Cop from the Village People isn't happy with the Tampa Bay Rays. Victor Willis said he's planning on suing the Rays "within the next 30 days" for misappropriating his voice and image. The Village People performed after a Rays game last season and used video of the band performing YMCA in 1978 to promote the post-game concert. Problem is, Willis left the band in 1984 and he wasn't performing. Willis wrote the band's hits and doesn't need to perform to earn money, as he earns more than $1 million a year from royalties from YMCA alone, not to mention Macho Man, Go West and In the Navy. [St. Petersburg Times]
No pinch-hitter for Dunn: White Sox manager Ozzie Guillen said he's not going to pinch-hit for Adam Dunn, even though he's thought about it. Guillen said he'll consider sitting Dunn against left-handed starters, but keep him in the games he starts. [Chicago Tribune]
Welcome back: Left-hander Brian Matusz is pitching well in Triple-A Norfolk and could be back on his way to Baltimore in short order, manager Buck Showalter told reporters. [MLB.com]
Progressive Ice: Cleveland's Progressive Field will host the Michigan-Ohio State hockey game this winter. The ballpark started Snow Days last year with a quarter-mile ice skiing track and a tubing hill. Both will be back, but they're also be a hockey rink. [New York Times]
Coming up short: Just about every game you'll hear a fan or radio announcer groan when an outfielder pulls up and lets a ball bounce in front of him. You know why he does that? Because he's not Alfonso Soriano. As soon as I saw the way Alfonso Soriano play Ian Desmond's leadoff double in the top of the eighth inning on Thursday, I thought, "that's why you pull up." Desmond turned Soirano's bad judgement into a double. It wasn't in MLB.com's highlights (or lowlights) but it's just another in the long list of Soriano's fielding mishaps.
Cactus bringing jack: A cactus statue signed by all of this year's All-Stars is being auctioned off on MLB.com with proceeds going to the cancer charities. [MLB.com]
Great news: Finally, a personal note. You may not know Dave Cameron, a writer for FanGraphs and USS Mariner, but Dave's recently been diagnosed with leukemia. Anyway, Dave's completed his first round of chemotherapy and there's no more leukemia in his body. He'll still have to go through more chemo and will be in the hospital for another week or so, but this is great news. [FanGraphs]
For more baseball news, rumors and analysis, follow @eyeonbaseball on Twitter or subscribe to the RSS feed.