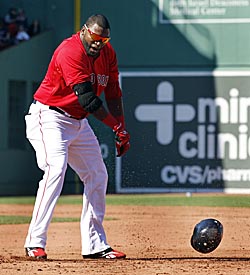 By Matt Snyder
We have yet another example in a long line of examples that MLB's instant replay system is badly flawed. Monday afternoon, the
Red Sox
trailed the
Orioles
6-4 with a runner on third base
.
David Ortiz
sent a rocket down the right field line and it was ruled foul. Only one problem: Replays showed that the ball clearly hit the wall in fair territory, probably about one foot to the left of the foul pole (if you're facing it).
Ortiz would fly out to end the inning, and the picture at right is his reaction after said fly out.
Now, if there was no replay at all, this wouldn't be an issue. The human element -- as we so often hear as an excuse -- says the umpire just missed a tough call. The ball was hit incredibly hard and he was standing more than 100 feet away. It's understandable that he missed it.
What's not understandable is that Major League Baseball uses replay to determine whether a ball is a home run or not, yet doesn't use replay to determine fair/foul calls. It's very simple. The ball is either fair or foul. The technology is at our disposal. Yet it's not used. Can anyone justify this?
Even if the umpire didn't miss this particular call -- and I guess it's possible the ball barely grazed the wall in foul territory, I just don't think it did -- the point remains the same. Why isn't instant replay used on fair/foul calls?
The arguments against replay here don't hold any water. It's a boundary play, so there's no judgment whatsoever. The delay of the umpires conferring with one another and Red Sox manager Terry Francona's subsequent argument was longer than if the umpires had just looked at a video screen and realized it was a fair ball.
Even if the MLB still holds this "human element" near and dear to its heart on possible catches, plays at bases and with the strike zone, it has to at least admit that fair/foul calls are boundary calls just like home runs. You review one, so review the other. Or do neither. Pick one.
As things stand, it's just unbalanced. Kind of like only one league having a DH, huh?
For more baseball news, rumors and analysis, follow @EyeOnBaseball on Twitter or subscribe to the RSS feed.