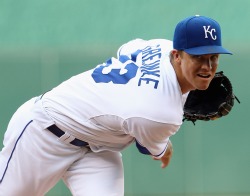 Well, we call oursleves Facts & Rumors on this blog, and file this under the latter.
This rumor comes from a fan blog on the
Milwaukee Journal Sentinel
site, and maybe there's something to it. I don't know, but even the author doesn't seem to stand by his own report with a huge disclaimer saying this is just a rumor, but a rumor he feels comfortable enough to publish -- even though I'm not so sure the editors at the
Journal Sentinel
would feel the same way.
With all that said,
the Bernies Crew blog
claims
Zack Greinke
's headed to Milwaukee. The disgruntled 2009 American League Cy Young winner is apparently tired of losing and Milwaukee is the place to cure that? Anyway, the deal, as reported, is Greinke and shortstop
Yuniesky Betancourt
along with $2 million to Milwaukee in exchange for shortstop
Alcides Escobar
, center fielder Lorenzo Cain and right-hander
Jeremy Jeffress
.
The
Royals
system is loaded, but does lack an impact shortstop and center fielder, so it would make sense in that it would fill needs, but doesn't seem to be on par with the impact players that the team has said it would need in order to make a deal.
Baseball Prospectus' Kevin Goldstein
tweets
he's talked to the agent of both Jeffress and Cain, and neither of his clients have been contacted by either team. Jeffress has tested positive for marijuana twice and has served a 100-game suspension. With one more positive test, he'd face a lifetime suspension. He made his big-league debut this year, but still would be a risky venture for the Royals.
With Greinke and
Shaun Marcum
, the
Brewers
would be vastly improved over last season (even with the addition of Betancourt) and in the National League Central, just about any team has a chance at making a run to a division title.
In the end, though, I'm not sure this one passes the sniff test. I could be really wrong, but I'm not sure the Royals are this desperate yet.
UPDATE:
OnMilwaukee.com is reporting this as well
, adding that the Royal would also receive right-hander Jake Odorizzi, a first-rounder in the 2008 draft. Odorizzi was 7-3 with a 3.43 ERA at Class A Wisconsin of the Midwest League last season. He struck out 135 in 120 2/3 innings. Odorizzi is not an insignificant add -- it makes the package look better and better. Although, the author of that report, Andrew Wagner, does not name Betancourt as going to Milwaukee, just a "major league" player. That would be debatable with Betancourt, but that he has drawn a big-league check, so he technically counts.
UPDATE:
Journal Sentinel
Brewers beat writer Tom Haudricourt checks in
on Twitter
: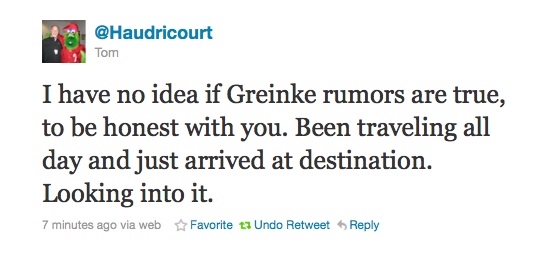 UPDATE:
Haudricourt
tweets
again, but has no confirmation of the deal: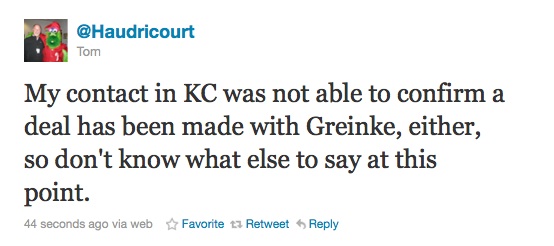 UPDATE:
Several outlets confirm the deal,
including the Journal Sentinel 's Tom Haudricourt
.
Give credit to
Jim Breen over at Bernies
Crew for the stories and my appoligies. You win the day and respect, while many ofthe rest of us eat crow. Good work, Jim, and my apologies.
This makes the National League Central a three-team race between the Brewers,
Reds
and
Cardinals
this season. The Brewers have an imposing top of the rotation with Greinke, Shaun Marcum and
Yovani Gallardo
.
That said, the team has given up its shortstop, center fielder and second baseman of the future, plus two of its best arms. Baseball America's upcoming Prospect Handbook had Odorizzi as the organization's top prospect and Jeffress third. It also means the Brewers are going for a title this season, and a trade of
Prince Fielder
is unlikely before the season.
Give Milwaukee credit, they're going for it -- much like they did when they acquired
CC Sabathia
in 2008. It will be a more interesting race in the National League Central, that's for sure.
UPDATE:
Jon Heyman of
Sports Illustrated
tweets
Jeffress isn't part of the deal, instead, a player to be named is headed to Kansas City. Heyman
also notes
the Royals had a deal with the
Nationals
, but Greinke would not approve that deal.
UPDATE:
CBSSports.com senior writer Danny Knobler says the deal is all but done, with the two teams haggling over the last player, which is likely Jeffress.
-- C. Trent Rosecrans
For more baseball news, rumors and analysis, follow @cbssportsmlb on Twitter or subscribe to the RSS feed.