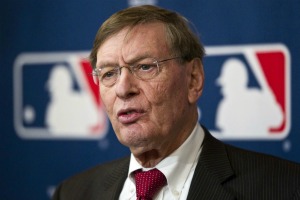 By C. Trent Rosecrans
Baseball's new collective bargaining agreement will include blood test for human growth hormone will be part of the next Major League Baseball collective bargaining agreement, the New York Times' Michael S. Schmidt reports.
If baseball does indeed test for HGH, it will be the first of the major professional sports in the United States to do so. Players who test positive for HGH will face the same punishment as current steroid users face, a 50-game suspension for the first-time failure. Testing would begin in February.
Baseball started blood testing in the minor leagues in 2010.
The NFL attempted to add blood testing for HGH in its last CBA, but was unable to do so.

The Associated Press also reports the new free agent compensation system will be in effect for several of the current free agent players, although not for the top players, such as Albert Pujols and Prince Fielder. Teams signing some Type A free agents will not be penalized a draft pick. FoxSports.com's Ken Rosenthal tweeted this should help the top free-agent relievers on the market, such as Heath Bell and Ryan Madson. Rosenthal notes that teams losing a Type A free agent will still get compensated with draft picks.

In addition, the minimum salary for 2012 will be $480,000.
For more baseball news, rumors and analysis, follow @eyeonbaseball on Twitter or subscribe to the RSS feed.