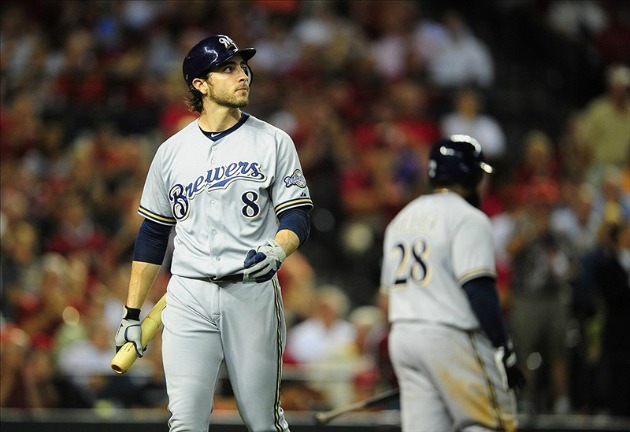 By C. Trent Rosecrans
Ryan Braun, the National League MVP, has failed a drug test given to him in October and could face a 50-game suspension if his appeal is denied, ESPN.com's Mark Fainaru-Wada and T.J. Quinn report. CBSSports.com has confirmed Braun tested positive, however a source tells CBSSports.com's Danny Knobler that while the positive test was for a banned substance, it was not for a perfromance-enhancing drug.

Once Braun was informed he had tested positive, he requested a second test and that one came back negative, the source told Knobler.

It should be noted Manny Ramirez and Edinson Volquez did not specifically test positive for a performance-enhancing drug, but for a male fertility drug that can also be used to mask raised testosterone levels.
Major League Baseball has not announced the positive test because Braun is disputing the result. MLB doesn't announce positive tests until all appeals have been heard and denied. Sources tell CBSSports.com that a decision will not come soon.

"It's B.S.," Braun told USA Today's Bob Nightengale.

Braun also told Tom Haudricourt of the Milwaukee Journal Sentinel that he wanted to hold a press conference on Saturday, but was advised against it.

"I can't wait to get that opportunity," Braun texted Haudricourt. "This is all B.S. I am completely innocent."
A spokesman for Braun issued this statement through Braun's agent: "There are highly unusual circumstances surrounding this case which will support Ryan's complete innocence and demonstrate there was absolutely no intentional violation of the program. While Ryan has impeccable character and no previous history, unfortunately, because of the process we have to maintain confidentiality and are not able to discuss it any further, but we are confident he will ultimately be exonerated."
Braun was tested during the playoffs and was notified, according to the ESPN report, later in October.
The report says Braun tested positive for elevated levels of testosterone, which was later revealed to be synthetic. MLB has asked the World Anti-Doping Agency lab in Montreal to perform a secondary test.

A report in the New York Daily News quotes a source as saying Braun's testosterone level was "insanely high" and "twice the level of the highest test ever taken.

In April, Braun signed an extension with the Brewers through the 2020 season worth $105 million.

Braun beat the Dodgers' Matt Kemp for MVP last month, finishing with 20 of the 32 first-place votes and 388 overall points to Kemps' 332. Braun's teammate, Prince Fielder, finished third.

Braun would be the first standing MVP to test positive for PEDs, although several others -- Roger Clemens, Barry Bonds, Alex Rodriguez, Sammy Sosa, Miguel Tejada, Jason Giambi, Ken Caminiti and Jose Canseco -- have either admitted steroid use or been implicated in steroid use. Regardless of the outcome of the appeal, Braun's name will always be lumped in with those players, vindicated or not. Whispers and suspicions have kept Jeff Bagwell out of the Hall of Fame and Braun will have a black mark against him in this positive test. Even if exonerated, there will be doubts because Braun plays for the Brewers, the team formerly owned by commissioner Bud Selig.

Several players before him, including Ramirez and Volquez, have claimed fertility drugs triggered a positive test, but both served their suspensions anyway. Rafael Palmeiro blamed his positive test on a "vitamin B12" shot given to him by Tejada.

If Braun's appeal is unsuccesful, he'd be the 10th player to receive a 50-game ban under the current testing system, joining Ramirez, Volquez, Yusaku Iriki, Guillermo Mota, Jason Grimsley, Juan Salas, Dan Serafini, Eliezer Alfonzo and J.C. Romero.
For more baseball news, rumors and analysis, follow @eyeonbaseball on Twitter or subscribe to the RSS feed.