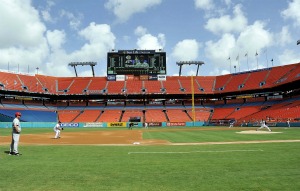 By C. Trent Rosecrans
The Reds and Marlins doubled up with two games Wednesday in an attempt to get ahead of Hurricane Irene (and away from the eyes of pesky fans, by the looks of the photo to your right from today's early game), which is on its way to the United States this weekend. While the Reds should be safely back in Cincinnati tonight, the Marlins may not be able to avoid the storm that is projected to hit much of the east coast of the country, as they head to Philadelphia for three games.
TBS has already changed its nationally televised game on Sunday from the Yankees and Orioles in Baltimore to the presumably dry Milwaukee, where the Cubs will face the Brewers.
Boston manager Terry Francona said the Red Sox and Major League Baseball are "trying to brainstorm" contingency plans and could schedule a doubleheader either Friday or Saturday in an attempt to play all three games against the A's at Fenway Park, according to the Boston Herald.
Along with the games in Philadelphia, Baltimore and Boston, the Mets' series against the Braves at Citi Field could be affected by the storm, which is currently expected to reach land on Saturday and could hit run up the coast through Monday.

"The weather reports are all different, so we'll see what path it takes," commissioner Bud Selig told David O'Brien of the Atlanta Journal-Constitution. "But we are trying to make as many contingency plans as we can. We're trying to figure out what we could do in case we have the one really bad day of rain."
For more baseball news, rumors and analysis, follow @eyeonbaseball on Twitter or subscribe to the RSS feed.