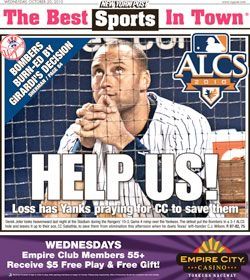 As you'd expect, the New York media is all over the
Yankees
after a second consecutive blowout loss at Yankee Stadium.
Today's
New York Post
back cover has a supplicating
Derek Jeter
with the headline "HELP US!" followed by "Loss has Yanks praying for CC to save them."
Inside, the lead for
the main
Yankees story begins: "Measure the toes, initial the tags and clear space in the morgue.
The Yankees
are nine innings away from self-inflicted baseball death."
The folks at the
Daily News,
as they are wont to do, take a more positive spin, declaring that "IT AIN'T OVER!"
Columnist Mike Lupica
had this
to say:"So it has come to this for the Yankees , after the Texas
Rangers
threw them down another flight of stairs, trying to throw them all the way out to 161st St., all the way into next season. ...
"The Yankees have not just been beaten three straight, they have been embarrassed. A rich-slapping in their case. They have looked nothing at all like the champions of the world.
"
If the Yankees lose again today, that grinding sound you'll hear will be Big Apple scribes sharpening their hatchets.
-- David Andriesen
For more baseball news, rumors and analysis, follow @cbssportsmlb on Twitter or subscribe to the RSS feed .