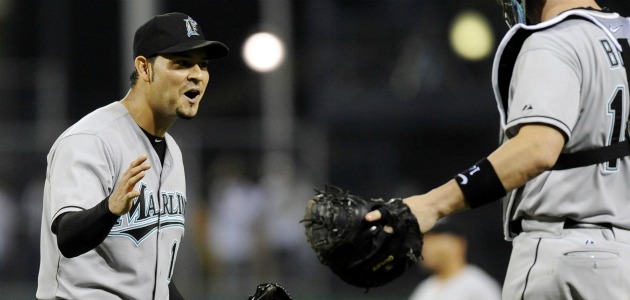 By Evan Brunell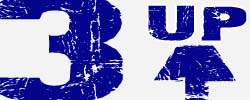 Anibal Sanchez, Marlins:
Sanchez twirled a gem, throwing a complete-game shutout and allowing just one hit and three walks while punching out 11. All in all, it was a stellar performance for the oft-injured right-hander, whose ERA dipped to 3.64. Sanchez's talent is undeniable -- the issue comes with actually staying on the field. Given he's done that for two straight years so far, it's time to look at Sanchez as a legitimate pitcher and one who could be in line for a big payday as a free agent after 2012.
Chris Heisey, Reds:
In a losing effort, Heisey cranked two home runs with a solo blast in the third before beginning a run of three consecutive blasts by Cincy in the fifth. It's the
third
time this season Heisey has tallied two homers in a game, and went 3-for-4 with three runs scored in his latest such game. Now batting .251/.306/.451, Heisey is putting himself in great shape to start next season as the left fielder, assuming
Yonder Alonso
doesn't stay at the position.
Alex Rios, White Sox:
Rios delivered a walkoff grand slam in the 10th inning to dip Cleveland below .500. It was the only hit of the game for Rios, but it was a fantastic one. Unfortunately, it's going to be the highlight of the season by far for the center fielder, who is rocking a .222/.258/.332 line. It was Rios' first career slam, and Chicago's first walkoff homer of the year. Thanks to his contract, though, Rios should get every chance to win and hold down the center field job next season.
---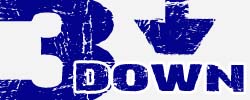 David Wright, Mets:
Bobby Parnell
wasn't exactly great either, and Wright did contribute two hits, but he also made two errors in the game. The second error came in the ninth when the
Cubs
rallied off of Parnell. Wright's error allowed the first batter of the inning,
Geovany Soto
, to reach base and it was all downhill from there as New York committed a total of four errors. That's the most the team has committed since last August. "It's no one person's fault that you lose a game," Wright told the Associated Press. "Collectively there's a lot of things we could have done to win this game."
Yoshinori Tateyama, Rangers:
It was a brutal night for Tateyama, who gave up a pinch-hit grand slam to
Scott Sizemore
after entering the game with the bases loaded. He followed that up by allowing a RBI double before being lifted from the game with an ERA all the way up to 4.71. The last batter the righty faced, which came on Sept. 3, also hammered a grand slam, meaning Tateyama gave up back-to-back slams. His ERA was 3.46 prior to these two slams, and 2.37 on Aug. 23 as he continues to spectacularly implode down the stretch.
Bronson Arroyo, Reds:
The nightmare season for Arroyo continues, as he was lit up for six earned runs over just one inning, running his ERA to 5.28, which would be his worst mark since his rookie season of 2000, when he posted a 6.40 ERA in 71 2/3 innings. The following year is his only other time with an ERA north of 5.00. It's a remarkable turn of events for Arroyo, who had been one of the most durable pitchers in his time with Cincy, racking up six straight seasons (the first in Boston) of 200 innings pitched. Arroyo now has allowed 40 homers on the year, tying him with Eric Milton for the franchise record. The MLB record is held by Bert Blyleven, with 50 bombs allowed.
For more baseball news, rumors and analysis, follow @EyeonBaseball on Twitter or subscribe to the RSS feed.