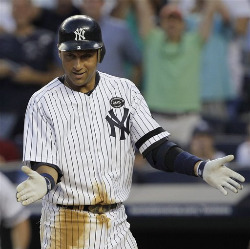 A first-ballot Hall of Fame shortstop will enter free agency this winter, and it's unlikely more than one team will call his agent. Nobody else will even bother.
Derek Jeter
is a Yankee, and the team is about as likely to ditch the pinstripes as it is to let Jeter go this winter.
"It's hard for me to imagine him in any other uniform," an American League general manager told the
New York Daily News.
"You think of guys like Tony Gwynn, Cal Ripken, Kirby Puckett -- those guys are a dying breed, but he's one of those guys. I'd be surprised if any team even makes a run at him, and it has nothing to do with his talent."
The question is, how much will the
Yankees
pony up for Captain Clutch?
Jeter is inevitably compared with
Alex Rodriguez
. They are the Yankees' yin and yang, the squeaky-clean captain and the guy fans love to hate (the
Daily News
headline after A-Rod hit his 600th homer: "Congratulations on your tainted milestone"). Rodriguez is under contract for $187 million (plus massive incentives) for the next seven years.
If they really wanted to spark some intrigue, they'd pay him exactly the same as Rodriguez -- but nobody expects a 36-year-old shortstop to draw $31 million, which is A-Rod's base salary for 2011. Jeter is making $21 million this season, and even though he's unlikely to match the production of his previous contract, he's probably not going to take a pay cut. The same factors that make it unthinkable that Jeter would consider leaving make it incumbent on the Yankees to pony up.
"He's always going to be worth far more to the Yankees than he will be anywhere else," the GM said. "You can't quantify what he's worth with a normal equation. Forget what he does on the field -- and he's still an excellent player -- but the business reasons alone are so compelling, it makes too much sense on both sides."
-- David Andriesen

For more baseball news, rumors and analysis, follow @cbssportsmlb on Twitter.