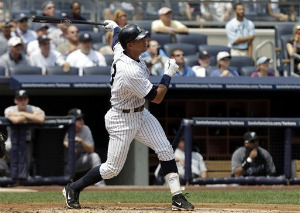 How big a villain is
Alex Rodriguez
? He just snatched a small fortune out of the hands of some innocent bleacher bum.
By selfishly hitting his 600th homer into the netting over Monument Park in center field at Yankee Stadium, the scandalous slugger made sure he, not a fan, would get the specially marked ball. He can't even make history without creating pad PR.
Seatgeek.com
recently estimated
after discussing the matter with an auction house that the ball would be worth between $100,000 and $150,000 at auction. So if A-Rod had hit the ball into a section of seats he might have sent someone's kids to college. What a bum.
(Note to people with no sense of humor: It's a joke.)
Actually, the best idea I heard for what a fan should do with the No. 600 ball came from a radio show caller: Arrange to trade the ball to A-Rod, have officials bring you down to the tunnel to meet him, and say, "Can you get me an autographed Jeter jersey?"
-- David Andriesen
UPDATE:
Here
is a photo of the actual No. 600 ball, provided by Major League Baseball's official authenticator. It looks like ... a baseball.

For more baseball news, rumors and analysis, follow @cbssportsmlb on Twitter.