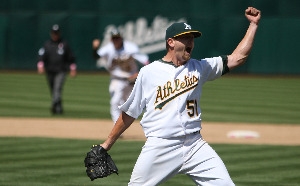 It's safe to say that baseball is entering an era of pitching. In a span of 23 days, three perfect games were thrown (one unofficial, but in this man's eye,
Armando Galarraga
had a perfect game) and young pitching has been exploding in quantity and quality as of late.
CBS Sports will attempt to explain why pitchers have the advantage over hitters these days with Scott Miller checking in this afternoon. Danny Knobler will look at the
Mets
' pitching history as one of three teams without a no-hitter to their name. As a warmup, let's take a look at 10 candidates who have a chance to throw a no-hitter or perfect game, whether this year or down the road.
It should go without saying that it's near fool-hardy to predict who will throw a no-hitter. After all, who could have predicted Galarraga's success, or that of
Dallas Braden
, who notched the first perfecto of the year? Only
Roy Halladay
's gem could have been foreseen while
Mark Buehrle
cofounds logic with both a no-hitter (2007) and perfect game (2009) to his name.
With that caveat in mind, there are four attributes that lend themselves to greater odds for a no-hitter: strikeouts, walks, groundballs and defense. The best way to keep batters off the bases, quite logically, is to strike them out. This is balanced by a need to stay strong for the whole nine innings but is nullified due to the fact anyone with a no-hitter through six innings will stay on the mound until the end.
While walks are allowed in a no-hitter, those with shaky command are more prone to giving up hits, plus their odds for perfect games collapse. Last is something out of the hurler's control, which is defense. A pitcher must have strong defense behind him to make the sparkling defensive plays that are a staple of every no-hitter. Just ask Buerhle how good a defender
Dewayne Wise
is, or take a look at
Austin Jackson
's amazing warning-track catch that preserved -- at least at the moment -- Galarraga's bid. As for groundballs, if you can't strike 'em out, the next best thing is to induce a chopper that an infielder can flip to first for an out.
Defensive proficiency will be measured in UZR/150 (click
here for an explanation
of the statistic) -- but keep in mind that defense should only be considered for the 2010 season. Changes in defensive quality occur from year to year. Excluded from this list (sorry,
Jon Lester
and
Ubaldo Jimenez
) are those that already have no-hitters and perfect games on their resume -- a good amount of these players like the ones that received an apology also have high odds to add another to their resume.
Without further ado, your candidates with statistics through Tuesday, June 22:

RHP
Mat Latos
, San Diego
Padres
2010: 7-4, 3.13 ERA, 79 IP, 8.1 K/9, 2.4 BB/9, 45.6 GB percentage, Team UZR/150 of 10.4
Latos is blessed with the league's best defense and plays in one of the most extreme pitcher's parks to boot. In his first full season, Latos has shown he's already among the better young pitchers in the game. He has already come close to a no-hitter, giving up one hit -- an infield single -- in a complete-game shutout of the
Giants
on May 13. He walked none and whiffed six.

RHP
Brandon Morrow
, Toronto
Blue Jays
2010: 4-5, 4.97 ERA, 76 IP, 9.95 K/9, 4.86 BB/9, 40.8 GB percentage, Team UZR/150 of -4.5
Morrow has some endurance concerns to work with and he's not exactly a control pitcher as evidenced by his average of almost five walks per game. However, he has electric stuff and certainly could have a no-hitter in his grasp. On a good day or as he matures as a pitcher, a perfect game is feasible. He's already sacrificed a bit of velocity and strikeout ability to tamp down the walks, a large reason why his ERA has dropped almost two full points since May 10.

RHP
Dan Haren
, Arizona
Diamondbacks
2010: 7-5, 4.71 ERA, 101 1/3 IP, 8.97 K/9, 1.78 BB/9, 42.8 GB percentage, Team UZR/150 of 6.7
Haren may not have the ERA (4.71), but his
xFIP
of 3.43 shows that he's been rather unlucky on the year. Haren is one of the best pitchers in the game and turned in 229 1/3 innings of 3.14-ERA ball in 2009, so not only can he produce, he can do it while going deep into games. His command is simply fantastic, and any time he toes the mound at a park not named Chase Field, he's got a great chance at a no-hitter. (Haren was a subject of CBS' Sports Fantasy Baseball podcast Tuesday,
give it a listen here
.)

RHP
Ricky Nolasco
, Florida
Marlins
2010: 5-6, 4.90 ERA, 82 2/3 IP, 6.53 K/9, 1.85 BB/9, 38.5 GB percentage, Team UZR/150 of -1.6
Nolasco has somehow lost three strikeouts per nine innings off his game, but if he reclaims it, should combine stingy command with his gas to rank as one of the league's best pitchers year in and year out. He has strung together two impressive seasons prior to 2010. Working against him is his groundball percentage and a home park with a big outfield.

RHP
Hiroki Kuroda
, Los Angeles
Dodgers
2010: 6-5, 3.06 ERA, 88 1/3 IP, 7.13 K/9, 2.45 BB/9, 53.5 GB percentage, Team UZR/150 of -9.4
Surprised to see Kuroda on the list? Don't be. The 35-year-old combines a strong strikeout rate, walk rate and groundball rate into someone who keeps runners off bases and doesn't give up too many extra-base hits. While the team is a sieve on defense (the UZR/150 mark is the worst in the majors), most of the damage comes from the outfield.

RHP
Jered Weaver
, Los Angeles
Angels
2010: 7-3, 3.04 ERA, 94 2/3 IP, 10.7 K/9, 2.19 BB/9, 37.2 GB percentage, Team UZR/150 of -7.2
Weaver doesn't have the defense behind him but if he keeps up his newfound two-seamer and ascension into the ranks of the pitching elite, he'll sniff a no-hitter before his career is over. The 27-year-old is breaking out, but the one negative is he has yet to go further than 7 1/3 inning on the season. On the bright side, he has four career complete games (two shutouts), all of which were registered in 2009.

RHP
Adam Wainwright
, St. Louis
Cardinals
2010: 10-4, 2.23 ERA, 109 IP, 8.34 K/9, 2.39 BB/9, 52.3 GB percentage, Team UZR/150 of 2.5
Wainwright is a horse's horse and misses a lot of bats. His curveball -- as
Carlos Beltran
can attest to -- could be his money pitch, which would cause plenty of strikeouts and groundballs. He gave up just two hits and one walk (eight punchouts) in a complete-game victory over the
Brewers
on June 4.

LHP
Cliff Lee
, Seattle
Mariners
2010: 5-3 2.55 ERA, 77 2/3 IP, 7.76 K/9, 0.46 BB/9, 43.2 GB percentage, Team UZR/150 of 1.4
Cliff Lee is having a season for the ages with an obscene 16.75 K/BB ratio. All batters can do is hope against hope they can put the bat on the ball and it somehow finds a green patch of grass. He may not whiff as many as others on this list, but he doesn't have to when he simply doesn't give up a free pass unless the manager wiggles four fingers at him. He pitches in a pitcher's park with a strong defense behind him as well.

RHP
Stephen Strasburg
, Washington
Nationals
2010: 2-0, 1.86 ERA, 19 1/3 IP, 14.90 K/9, 2.33 BB/9, 44.1 GB percentage, Team UZR/150 of 1.6
It's not often that someone with three career starts to his name lands on a list such as this, but Strasburg isn't your usual pitcher. He combines filthy stuff with pinpoint control and keeps setting strikeout records. Not only is Strasburg a candidate for a no-hitter or perfect game, but it wouldn't be shocking if he racked up multiple no-hitters. Nolan Ryan holds the MLB record with seven total no-hitters, and it's not out of the realm of possibility Strasburg could match Ryan provided Strasburg pitches for many years to come.

RHP
Tim Lincecum
, San Francisco Giants
2010: 7-2, 3.11 ERA, 92 2/3 IP, 10.29 K/9, 3.59 BB/9, 48.9 GB percentage, Team UZR/150 of 8.4
Lincecum is the reigning back-to-back Cy Young victor and at age 26, is just getting started. He's giving up a few more walks than normal, but also leads baseball in whiffs per nine innings. On July 27, 2009, Lincecum whiffed 15
Pirates
in a complete game effort. He coughed up three walks and four hits in that outing. The closest he has come to a no-hitter was June 29 of the same year when he gave up two hits to the Cardinals, but shut them out on eight punchouts and no walks.
-- Evan Brunell

For more baseball news, rumors and analysis, follow @cbssportsmlb on Twitter.