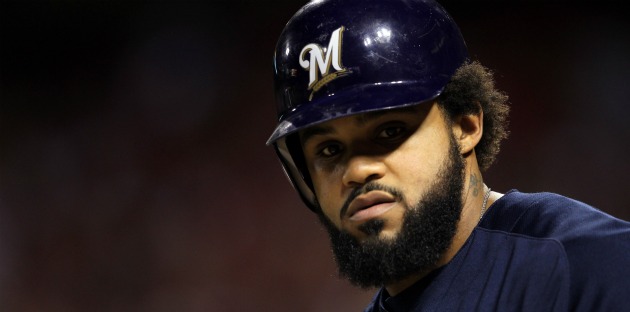 By Evan Brunell
While
Brewers
GM Doug Melvin said he "might" meet with superagent Scott Boras and discuss parameters around
Prince Fielder
, he acknowledged that there was pretty much no way the first baseman would be back in town.
"Things have changed since two years ago," Melvin told Milwaukee Journal-Sentinel. "We had an opportunity (to sign Fielder) and couldn't do it. We gave money to other players who were going to be free agents. Markets can change from year to year, too.
"It takes time to see how the market develops. You never know how it's going to play out. You don't get a lot of information from agents at this point. They'll listen but you don't get a lot of direction from them."
The Brewers offered Fielder a five-year, $100 million contract in spring of 2010, but never heard back from Fielder or his agents. Since then, there has been zero dialogue. In the meantime, the Brewers' finances changed, as it inked second baseman
Rickie Weeks
, right fielder
Corey Hart
and starting pitcher
Yovani Gallardo
to long-term deals. They also extended left fielder
Ryan Braun
for essentially the same amount of money offered to Fielder -- five years and $105 million, slated to kick in for the 2015 season. In addition, they traded for
Zack Greinke
, who makes good money and is a free agent after next season. Then of course, there are arbitration cased to consider. The takeaway? The money isn't there for Fielder anymore.
"It's simple math," said Melvin of a payroll that would inch over $70 million with half the roster to complete. The Brewers had a payroll around $95 million this past season, where they aim to remain. No Fielder, and more importantly, no big-ticket free agent. With that little flexibility, it's difficult to comprehend how Milwaukee could take on Jose Reyes without trading away another player.
Melvin said he doesn't have any plans to tender an offer for Fielder, and if there was any offer, it would come after Fielder and Boras tested the market to know exactly what type of contract would work for Milwaukee. If Fielder does leave, and it's more like when, Melvin tabs minor-league first baseman Mat Gamel as someone who has been getting internal support to replace Fielder at first. The 26-year-old failed as a third baseman, necessitating the shift. He's had small stints with the Brewers the last four seasons, getting 61 of 85 games in 2009, when he hit .242/.338/.422.
He appears to be ready for prime time after slashing .310/.372/.540 with 28 homers in Triple-A after a successful move to first in expectation of losing Fielder. It's possible, if not likely, the club will bring in a solid veteran to complement Gamel and, if needed, step in to replace him. But Milwaukee don't need Fielder because it already has his replacement.
For more baseball news, rumors and analysis, follow @EyeonBaseball on Twitter or subscribe to the RSS feed.