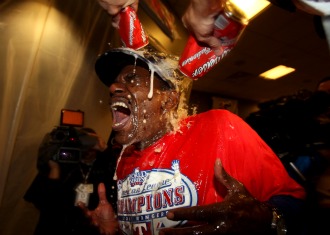 The major baseball awards will be announced next week, and the staff at MLB Facts and Rumors is making our choices this week. Today, David, Evan and Trent name their Manager of the Year selections. As with the BBWAA awards, a first-place vote is worth three points, second place two and third place one.
The outcome of the American League race is considered fairly clear, while the National League seems to have several possibilities. Manager of the year is always the toughest award to forecast, because voters value different things.
AMERICAN LEAGUE MANAGER OF THE YEAR

David Andriesen
1. Ron Washington, TEX
2. Joe Maddon, TB
3. Ron Gardenhire, MIN
Washington was lucky to even have a job after testing positive for cocaine last year, but he rehabbed his reputation while making a good team great. Much of the credit for the team's easy, confident vibe goes to him, and his players are very loyal to him. Maddon used a bunch of kids to best a team with three times the payroll, and Gardenhire won his sixth division title in nine years.
Evan Brunell
1. Terry Francona, BOS
2. Ron Washington, TEX
3. Joe Maddon, TB
Francona somehow kept Boston in contention up until the final week, an amazing success given the team was besieged by injuries so much it became almost comical each time there was an injury. Factor in Tampa Bay finishing with 96 wins, New York with 85 and Toronto with 85, and you appreciate how stiff the competition was.
C. Trent Rosecrans
1. Ron Gardenhire, MIN
2. Ron Washington, TEX
3. Joe Maddon, TB
I really believe Washington will win it, and it's hard to argue against it. Many were shocked he made it out of spring training after word of a failed drug test surfaced, and then Washington led his
Rangers
to their first-ever World Series. Washington's players love him and he was rewarded with a new contract and will also win the award, but my nod goes to Gardenhire. Yeah, it seems boring that the
Twins
win year after year, and Gardenhire has a big part in that. I'm one of those that believes 70 percent of managing is stuff other than in-game moves, and that's where all three of these excel.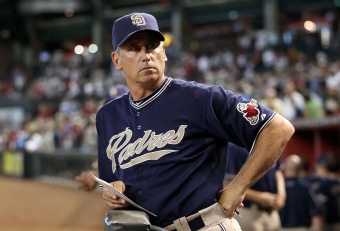 NATIONAL LEAGUE MANAGER OF THE YEAR

David Andriesen
1. Bud Black, SD
2. Bobby Cox, ATL
3.
Brad Mills
, HOU
A lot of ways to go here, but Black and Cox both won with teams that shouldn't have. The
Padres
fell short of the playoffs, but they won 90 games when a lot of people picked them to finish last. The
Astros
stumbled horribly out of the gate, but first-year skipper Mills guided them to a 59-53 record after June 1 even with
Roy Oswalt
and
Lance Berkman
traded away.
Evan Brunell
1. Bobby Cox, ATL
2. Bud Black, SD
3. Dusty Baker, CIN
Cox did perhaps his finest managerial job in the offseason, taking a ragtag bunch of players and getting them into the postseason. San Francisco got a lot of credit in the playoffs as "outcasts" and "misfits" ... the
Braves
were the more misfit team.
C. Trent Rosecrans
1. Bud Black, SD
2. Dusty Baker, CIN
3. Bobby Cox, ATL
To be so close to the playoffs with only one legitimate hitter, Black deserves more than just a trophy.
Will Venable
was the only hitter on the Padres besides
Adrian Gonzalez
with 400 plate appearances and an OPS+ better than 100. Everyone expected the Padres to fade long before they ever did, and a lot of that to go to Black. Baker did a hell of a job in Cincinnati as well, and who wouldn't like to see Cox win it in his last year? But Black is the most deserving.
MLB Facts and Rumors AL Manager of the Year

Ron Washington takes this one in a rout, tallying eight points to four apiece for Maddon and Gardenhire. It'll be a surprise if he doesn't win the BBWAA award.
MLB Facts and Rumors NL Manager of the Year
Black gets the nod with eight points, as Cox finishes with six. It will be interesting to see whether a guy who didn't make the playoffs wins the real award, which is not common.
-- David Andriesen
For more baseball news, rumors and analysis, follow @cbssportsmlb on Twitter or subscribe to the RSS feed.