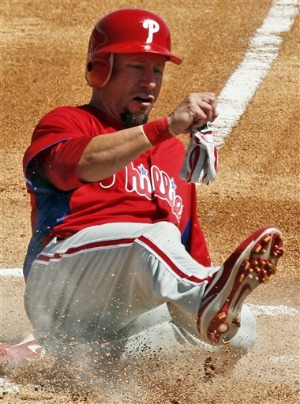 By Evan Brunell
The Phillies are going to have to withstand the loss of Chase Utley at second base, but at least the team knows who will replace him in defensive wizard Wilson Valdez. But to hear manager Charlie Manuel tell it, the right-field conundrum may be more concerning.
"We've got guys we can put out there," Manuel told the Philadelphia Inquirer, referring primarily to Ben Francisco and John Mayberry. "But somebody's got to win that job. We've got to get some production, and we've got to play good defense. Our starting pitching, they're going to need defense. We've got to play the game right, and we've got to score runs."
Francisco has a .356 average in spring training, while Mayberry is hitting .319 but has bashed five home runs to play his way into a backup outfield job at the very least. But while Francisco has equipped himself well as a backup outfielder with a history of starting in Cleveland, it's clear that Manuel isn't sold on throwing him out there every day, noting that the option at this point appears to be a platoon.
"I don't know what I might do," Manuel said. "I do a lot of strange things, sometimes."
Manuel reveals that one of those strange things might be to give Ross Gload playing time in right field. While Gload can't play every day -- and certainly not in right field, with a career 36 games at the position -- his bat may be enough to force him into once- or twice-weekly action. As a result, Gload is going to get ample playing time in right field down the spring-training stretch.
The selection of Gload (pictured) may be odd, especially since Gload has evolved into being a pinch-hitter off the bench and only collected 138 plate appearances for the Phillies last season, but boasts a career line of .283/.328/.414, rising to .268/.329/.430 in 397 PA the last two seasons.
"He can get some playing time there," Manuel said. "Gload can hit. He can give you quality at-bats."
What Gload can't give is defense, something Manuel readily acknowledges but appears prepared to deal with, especially when talking about two games a week.
"I think defense comes first because of our starting pitching," Manuel said. "At the same time, we still have to score runs. You can have the greatest defensive player in the world, and you start losing games, the first thing you do is look at that defensive player."
For more baseball news, rumors and analysis, follow @cbssportsmlb on Twitter or subscribe to the RSS feed.