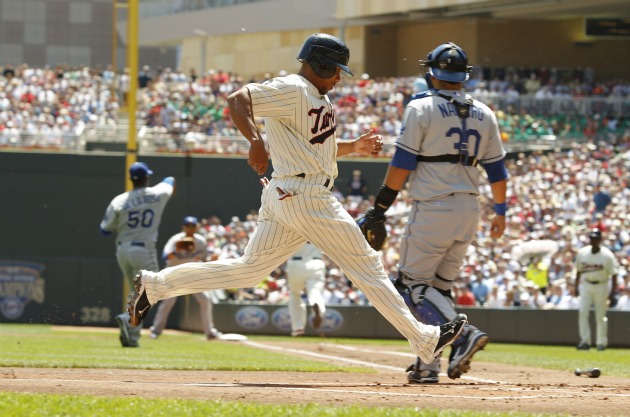 By C. Trent Rosecrans
The Twins just won another 1-0 game, their seventh overall 1-0 game and fifth victory in a 1-0 contest. Five of the seven games came at Target Field and the only two losses were on unearned runs.
Here's all of their 1-0 games this season:
June 29: Twins 1, Dodgers 0: Scott Baker went 7 1/3, allowing six hits and a walk, striking out 9. Rubby De La Rosa allowed just one run on six hits in seven innings for the Dodgers to get the hard-luck loss. The only run came in the first after Ben Revere led off the game for the Twins with a triple and Tsuyoshi Nishioka knocked in the game's only run with a dribbler down the first-base line.
June 18: Twins 1, Padres 0: Another great start by Baker, who allowed just four hits and a walk in eight innings, striking out 10. Padres starter Tim Stauffer went seven innings allowing six hits, one of them a Danny Valencia homer in the seventh inning.
June 16: Twins 1, White Sox 0: Right fielder Michael Cuddyer homered off of Mark Buehrle in the second for the only run of the game and one of three hits Buehrle surrendered in seven innings. Nick Blackburn gave up seven hits (all singles) in eight innings, walking one.
June 7: Indians 1, Twins 0: In Cleveland, Indians starter Carlos Carrasco held the Twins to just three hits in 8 1/3 innings, while Chris Perez came in for the final two outs. Minnesota starter Francisco Liriano went 5 innings, giving up three hits and an unearned run. Cleveland scored in the fourth when left fielder Delmon Young's throw allowed Carlos Santana to advance to third on his leadoff double, followed by an RBI groundout by Shelley Duncan.
May 28: Twins 1, Angels 0: Anthony Swarzak took a no-hitter into the eighth inning and Valencia's RBI single in the 10th gave Minnesota the victory. The Angels' Jered Weaver allowed just two hits in 9 innings, but Hisanori Takahashi gave up a single in the 10th inning and Jason Repko came in, Takahashi allowing three straight singles to decide the game.

May 3: Twins 1, White Sox 0: Liriano no-hit the White Sox at U.S. Cellular Field and Jason Kubel homered in the seventh for the lone run. Edwin Jackson gave up six hits in eight innings for the White Sox.
April 9: A's 1, Twins 0: With two outs in the sixth, Blackburn gave up a single to Kurt Suzuki who moved to second on a wild pitch and scored on a throwing error by shortstop Alexi Casilla for the game's only run. Minnesota used five relievers, while Gio Gonzalez allowed four hits in six innings for Oakland.
For more baseball news, rumors and analysis, follow @cbssportsmlb on Twitter or subscribe to the RSS feed.