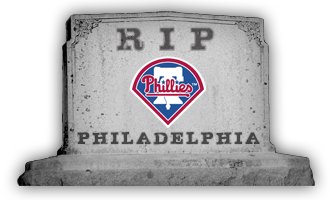 By Evan Brunell
Another season gone, another disappointment for 29 teams as one is immortalized forever. Let's take a look back at 2011 and forward in Eye on Baseball's R.I.P. series...
Team name:
Philadelphia
Phillies
Record:
102-60, First place NL East. Lost NLDS to St. Louis, 3-2.
Manager:
Charlie Manuel
Best hitter:
Shane Victorino
-- .279/.355/.491, 17 HR, 95 R, 19 SB
Best pitcher:
Roy Halladay
-- 19-6, 233 2/3 IP, 2.35 ERA, 35 BB, 220 K
2011 SEASON RECAP
The Phillies didn't waste time asserting their superiority, running out to an 18-8 record. Cliff Lee needed some time to get going in uniform, racking up a 4.15 ERA in five starts, but better times were on the way. Meanwhile, the other three aces didn't have any problem locking down games, even though the offense was exposed with the loss of Jayson Werth. Ben Francisco got April off to a rollicking start, but tailed off in May as the club went 16-13. Vance Worley, who stepped into the rotation to replace Joe Blanton, made his first start on April 29, posting a 2.14 ERA in his first five starts.
The club then registered two consecutive 17-win months and struck for Hunter Pence at the trade deadline. Philly then ran a nine-game winning streak into August, leading to their best month with an 18-7 record. Unfortunately for Philadelphia, their shot at extending their 102 victories higher was derailed by a September that saw an eight-game losing streak. Despite that, they were so dominant, they posted a 30-10 record in blowout games, as defined by Baseball Reference.

The playoffs were another story, though, as the Phillies lost in five games to the wild-card winning Cardinals. The offense was mostly the culprit.
2012 AUDIT
Philadelphia is still the class of the NL, even though everyone is one year older. Fortunately, the team is shedding the contracts of Raul Ibanez and Brad Lidge most notably, so there is payroll flexibility to be had that will allow for a significant signing. It will still be some time before the Phillies drastically drop out of contention, and the club needs to continue its philosophy of putting all its eggs in one basket and contending while it still can. Flags fly forever.
FREE AGENTS
Ross Gload
, 1B
Raul Ibanez, LF
Brad Lidge, RP ($12.5 million club option)
Ryan Madson
, RP
Roy Oswalt
, SP ($16 million mutual option)
Jimmy Rollins
, SS
Brian Schneider
, C
OFFSEASON FOCUS
Sign Jonathan Papelbon. The Phillies will throw gobs of cash at the best closer they can get. Ryan Madson had an incredible season, finally delivering on his potential, but he's no Papelbon. Papelbon has done it all -- won a World Series, pitched in incredibly tight situations, pitched against elite competition and has experience playing in a hitter's park. (Health Bell, for example, would likely succeed no matter where he plays, but it's inarguable that he also is lucky to pitch in Petco Park.) Who knows if the Red Sox will let Papelbon get away, but the Phils need to try. Madson or Bell would be Plan B. Obviously, the team shouldn't pick up Lidge's option, but should absolutely explore bringing him back as setup man.
With Ryan Howard's injury knocking him out until at least May -- if not longer -- the Phillies need to get aggressive on offense. They simply had too much trouble in 2011 with the bat, so need to go after one of the better bats on the market and sign Josh Willingham. Willingham can fill in at first base with Howard's absence. That allows John Mayberry and top prospect Dominic Brown to share time in left. When Howard returns, Willingham simply shifts to left field. Yes, that puts Mayberry and Brown on the bench, but word is Philadelphia has soured on Brown as a long-term player. As for Mayberry, he had quite the coming-out party, but a team like Philadelphia can't make any assumptions about his long-term viability.
Bring back Jimmy Rollins. Rollins may not give the club a hometown discount, but he's a very popular player in town and will cost much, much less than Jose Reyes. Even the Phillies can't throw cash around at any player they want. They could potentially sign Jose Reyes, but that would likely mean giving up on Papelbon (or any high-salaried closer), and that would be the wrong move.
Let Roy Oswalt walk. While Oswalt is still a good pitcher, $14 million is a lot to pay for someone that may not be capable of making 32 starts anymore. (He has a $16 million mutual option with a $2 million buyout, so the true cost is $14 million.) There doesn't need to be any replacement starter, as Vance Worley can move up to No. 4 and Joe Blanton can slide in at No. 5. The club would need to sign some solid pitchers for Triple-A as depth, though.
Bring in a solid utility infielder. One of Philly's biggest issues this past season was offense. Hunter Pence helped address that, but the team needs to upgrade where they can regardless. Wilson Valdez is fine as backup shortstop, but Adam Kennedy should be brought in to man second and third, as well as become pinch-hitter du jour after revitalizing his career in Seattle. Kennedy would have to settle for less playing time, but here's figuring that's not an issue for Philadelphia.
For more baseball news, rumors and analysis, follow @eyeonbaseball on Twitter or subscribe to the RSS feed.