By Evan Brunell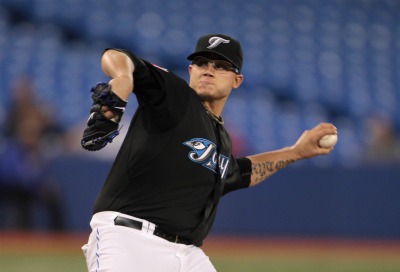 On a night where Bartolo Colon snagged his first win in two years, opposing pitcher Brett Cecil was struggling to find good things to say about his season so far.
Cecil was thumped for five earned runs in five innings, walking four and whiffing four as his ERA ballooned to 6.86 in 21 innings. This after the youngster put together a 15-7 season last year with a 4.22 ERA in 28 starts.
As John Lott of the National Post tweets, manager John Farrell is concerned about Cecil's velocity, which has taken a while to get going. After averaging 90 mph with his fastball over the last two seasons, Cecil was averaging 88.3 mph on his fastball through his first three starts. Wednesday night was more promising as he came in with an average speed of 89.53 mph, topping out at 91.2 mph.
In the early going, pitchers tend to need some time to completely finish building up their arm strength, which is why so many tend to be limited around 75 pitches their first time out. In addition, pitchers have a more difficult time getting warmed up in cold weather which can really impact velocity. As we've seen with Phil Hughes, however, sometimes velocity drops are a harbinger of something to come.
Farrell, however, states that Cecil is healthy. Given his marginal increase in velocity and lack of current solutions, Cecil should get a couple more starts to right himself but certainly is in danger of being optioned to Triple-A. The club just sent down Jesse Litsch given he had an option left, for Brandon Morrow to step in the rotation. Litsch needs to be down on the farm for at least 10 days, barring an injury, before he can be recalled. That would give Cecil two starts to assert himself before the Blue Jays can seriously consider optioning him.
Cecil had a cupcake beginning to the year with the Twins and Angels as his first opponents, but just went through the meat grinder with the Red Sox and Yankees. Things won't get any easier, as he will face the Rangers and Yankees again in his next two starts.
For more baseball news, rumors and analysis, follow @cbssportsmlb on Twitter or subscribe to the RSS feed.