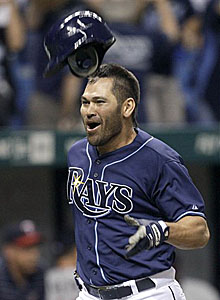 By Matt Snyder
3UP
Johnny Damon
,
Rays
. He set a record Thursday night, in case you didn't hear. A quite obscure one, but a record nevertheless. When Damon hit a two-run, walk-off home run in the bottom of the 10th inning, it was the fifth team for which he'd hit a walk-off homer -- the others being the
Royals
,
Red Sox
,
Yankees
and
Tigers
. According to Elias Sports Bureau, he's the first player in major-league history to do so. That speaks to both longevity and bouncing around. For the present, however, the concentration should be on the Rays' third straight victory.
Randy Wolf
,
Brewers
. After starting the season 0-4, the Brewers are now 7-5. Thursday night, they owed a big portion of their victory to the man on the hill. Wolf allowed just three hits and two walks with zero earned runs and didn't allow a
Pirates
player past second base. He also struck out 10 men. Big outing for Wolf and the Brewers are really rolling now.
Hanley Ramirez
,
Marlins
. He entered the game hitting .194 with a dreadful .553 OPS. The star shortstop has been badly outplayed by
Rockies
star
Troy Tulowitzki
to this point. Thursday, Ramirez showed signs of life. He got on base five times in five plate appearances, going 3-3 with two walks, a run and an RBI. This could be exactly the thing he needs to get going. With the Marlins being 7-5 now, basically without his bat, watch out.
3DOWN
The
Twins
.
Joe Mauer
is going to the DL. Rays starter
James Shields
allowed 11 baserunners, but the Twins only scored twice. Twins starter
Carl Pavano
threw an absolute gem (eight innings, four hits, zero runs, seven strikeouts) and it was wasted by the bullpen. And it wasn't just two random members of the 'pen. It was
Joe Nathan
, who coughed up the lead in the ninth on a two-RBI
Matt Joyce
double, and
Matt Capps
-- who lost the game on Damon's aforementioned shot in the 10th.
Mariners
offense. They were already starting with a strike against them.
Adam Kennedy
was hitting cleanup. Seriously, you can't make this stuff up. Then the Mariners go out and get handcuffed by
Bruce Chen
. In fairness to Chen, he had a 4.07 ERA and 1.38 WHIP last year, so he's not the worst pitcher in baseball or anything. It's just that he's still Bruce Chen and held Seattle to six hits, a walk and zero runs over eight innings. That shouldn't be happening to a major-league offense. Then again, Adam Kennedy should never be batting cleanup even in a minor-league offense.
Hiroki Kuroda
,
Dodgers
. He got off to a stellar start to the season, but it came crashing down Thursday night as the
Cardinals
let loose against the right-hander. He was only able to get through five innings, allowing 10 hits and five earned runs as the Dodgers lost 9-5.
For more baseball news, rumors and analysis, follow @cbssportsmlb on Twitter or subscribe to the RSS feed.