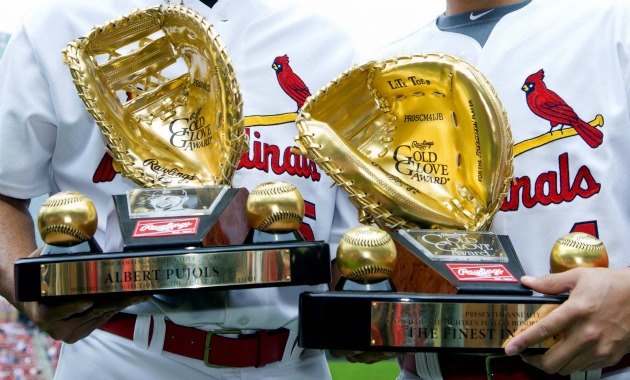 By C. Trent Rosecrans
The Gold Gloves are one of baseball's toughest awards to decide -- and sometimes toughest to understand. Unlike many of the game's other awards, the Gold Gloves are voted on by managers and coaches, and every year it seems there's a winner or two that seems to win the award more with their bat than their glove.
Not only do some players seem to win it with something other than their glove, sometimes the award can be a lot like the Supreme Court, once you get elected, you're not going to lose your seat.
That said, it's a difficult award to vote for. There are better fielding statistics coming out every year, yet most are still in their infancy and can tell you only so much. Good defense, sometimes can be a lot like the definition Supreme Court Justice Potter Stewart gave for pornograpy in Jacobelis v. Ohio in 1964: "I shall not today attempt further to define the kinds of material I understand to be embrued within that shorthand description; and perhaps I could never succeed in intelligibly doing so. But I know it when I see it."
With that in mind, perhaps the voters for the Gold Gloves should be the scouts, but instead I'll try my hand at picking out the best defensive players in the National League.
Catcher: Yadier Molina, Cardinals.
As tough as it is to use numbers to evaluate fielders, it's even tougher with catchers. At least the numbers with other fielders have some meaning, with catchers there's so much more to what they do defensively that it's hard not to go on reputation -- and nobody has a better reputation than Molina.
Others considered: Carlos Ruiz, Phillies; Brian McCann, Braves.
First base: Joey Votto, Reds
When Votto was coming up, people knew he could hit -- that was hard to ignore -- but his reputation at first base was nowhere near as good. Even as a rookie, he often struggled, especially on throws to a pitcher covering first. Since then, he's improved every year and this year he has proven himself to be the best defensive first baseman in the league. Votto, last year's MVP, covers more ground at first than any other first baseman in the league, which means it can be tough to get a hit if you hit it on the ground to the right side of the Reds infield, beacuse of the next guy on the list.
Others considered: Albert Pujols, Cardinals. Todd Helton, Rockies.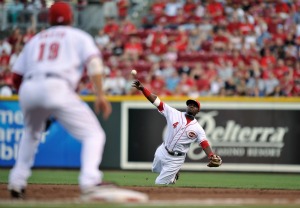 Second base: Brandon Phillips, Reds
A two-time Gold Glover, Phillips should be in line for his third. There may be no other player in baseball with as long of a highlight-reel as Phillips, who seemingly makes another amazing play every night.
Others considered: Chase Utley, Phillies, Omar Infante, Marlins, Neil Walker, Pirates
Third base: Pablo Sandoval, Giants
There are players with better defensive reputations than the Kung Fu Panda, but nobody's had a better year. The advanced stats don't tell you everything yet, but they're still pretty good. Sandoval leads qualified National League third basemen in UZR (12.3), UZR/150 (21.2) and plus-minus (20).
Others considered: Placido Polanco, Phillies; Ryan Zimmerman, Nationals.
Shortstop: Troy Tulowitzki, Rockies
The Rockies may know a little something about drafting defensive shortstops -- they picked two of the best in the league, Tulowitzki and the Astros' Clint Barmes. Finally healthy, Barmes was outstanding defensively for the Astros, while Tulowitzki seems like the second coming of Cal Ripken.
Others considered: Alex Gonzalez, Braves; Jose Reyes, Mets; Clint Barmes, Astros.
Left field: Carlos Gonzalez, Rockies
The voting has changed this year to award Gold Gloves to each of the three outfield positions instead of three generic outfielder awards that usually went to center fielders. Carlos Gonzalez is tough to categorize, but considering he's played more games in left than any other spot, he's the easy choice here. He's started 60 games in left, 34 in right and 28 in center. He's played all three well, which isn't easy at spacious Coors Field, committing only one error on the season.
Others considered: Matt Holliday, Cardinals. Gerardo Parra, Diamondbacks. Tony Gwynn, Dodgers.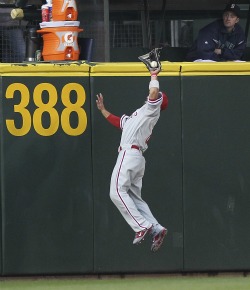 Center field: Shane Victorino, Phillies
This is one stacked category, with several deserving players. Under the old rules it would be easy, you'd have three center fielders and give them the three Gold Gloves. Under the new rules, it's a tougher choice. Victorino has had an MVP-type year, and no small part of that has been patrolling center field for the Phillies. The Flyin' Hawaiian is as good as anyone out there and his error-less season gives him the edge.
Others considered: Chris Young, Diamondbacks; Carlos Gomez, Brewers; Cameron Maybin, Padres; Rick Ankiel, Nationals; Andrew McCutchen, Pirates.
Right field: Mike Stanton, Marlins
He may be known best for the moon shots off his bat, but Stanton is a surprisingly good defensive outfielder. Stanton has the combination of athleticism and arm strength to be the best defensive right fielder in the game.
Others considered: Jay Bruce, Reds; Carlos Beltran, Giants; Jason Heyward, Braves.
Pitcher: R.A. Dickey, Mets
A knuckleball pitcher needs to field his position well -- there are plenty of bad hits coming back to the mound off poor contact. Dickey has been very good fielding his position and helped his team with his glove.
Others considered: Jake Westbrook, Cardinals; Bronson Arroyo, Reds; Hiroki Kuroda, Dodgers; Clayton Kershaw, Dodgers; Derek Lowe, Braves.
For more baseball news, rumors and analysis, follow @eyeonbaseball on Twitter or subscribe to the RSS feed.