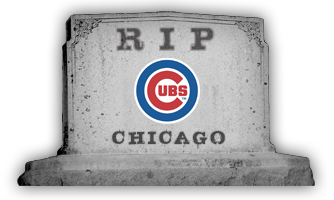 By Matt Snyder
Another season gone, another disappointment for 29 teams as one is immortalized forever. Let's take a look back at 2011 and forward in Eye on Baseball's R.I.P. series...
Team name:
Chicago
Cubs
Record:
70-90, 24 games back in NL Central
Manager:
Mike Quade
Best hitter:
Aramis Ramirez
-- .306/.360/.506, 25 HR, 92 RBI, 79 R, 35 2B
Best pitcher:
Matt Garza
-- 9-10, 3.35 ERA, 1.27 WHIP, 189 K, 191 IP
After the 2008 season, the Cubs were in the middle of a bit of a golden era in the franchise. They had been division champions three times in a six-year span. That isn't saying much for a lot of teams, but this franchise hadn't had that kind of success since playing in the World Series four out of five seasons from 1906-1910. Alas, they were swept in the NLDS in 2008, despite having the best regular-season record in the National League, so general manager Jim Hendry decided to do some tinkering. The Cubs finished just five games over .500 in 2009 before coming in fifth place in 2010 and are currently in fifth again. And Hendry's out of a job, likely to be followed by Quade and some other coaches.
2011 SEASON RECAP
They were 9-8 and tied for first place after the first game of a doubleheader on April 20, but that was the high point in the standings. The Cubs would go on to lose six of seven games and never be a serious threat the rest of the way. They fell to 10 games back on June 4 and never got closer than nine back in the Central from that point forward. They actually moved up to fourth place September 19 for the first time since May 26, but the overwhelming majority of the season has been spent in fifth place, thanks to the lowly
Astros
. The biggest positives:
Starlin Castro
is well on his way to being a major-league star,
Darwin Barney
appears an adequate option at second base, Matt Garza had a good season,
Sean Marshall
is still great in middle-to-late inning relief and
Jeff Samardzija
finally doesn't look like a huge bust. The biggest negative is that this appears to be a badly flawed roster with not near enough help on the way from the minors.
2012 AUDIT
This is the toughest assignment of the R.I.P. series, because there's no way to know the direction of the ballclub until a new general manager is hired. The club is not immediately set up to compete, but there's a stipulation: With more than $50 million in payroll falling off before 2012 and even more off the books before '13, the Cubs could decide to be a major player in free agency. The franchise has enough money to grab, for example,
Prince Fielder
,
C.J. Wilson
and still have money left over to bolster the bullpen and find a fill-in at third base. On the other hand, many would argue that still isn't enough to make the Cubs immediate contenders in the National League. If the new GM agrees, he might be more in favor of leaving the payroll low for a season or two while building the system with a youthful foundation before pouncing on big-name free agents to fill holes in 2013 or 2014. One thing that should scare fellow franchises in the NL Central if the Cubs choose to spend big in the near future, is that the Cubs are clear of all big contracts except
Alfonso Soriano
and
Carlos Marmol
(and Matt Garza likely has a deal by then, too, I'd guess) prior to 2013 and Marmol's off after '13. They have the resources to be the
Red Sox
of the NL. It's just a matter of if the Cubs can put the correct plan in place, and that all comes down to who chairman Tom Ricketts hires as his next GM.
FREE AGENTS
Aramis Ramirez, 3B (mutual option)
Carlos Pena
, 1B
Reed Johnson
, OF
Ryan Dempster
, SP (player option for '12)
John Grabow
, RP
Jeff Samardzija, RP (club option for '12 and '13)
OFFSEASON FOCUS
Where to even begin? This roster is a mess. First of all, I'd listen to offers for everyone except Starlin Castro. That doesn't mean you have to trade guys like Barney, Marshall or Soto, but you never know if the return might work with the game plan of the new GM. Let's sort through some of this and see what can be done short-term with the eyes on the future. My goal would be to contend in 2013. If it happens in 2012, that's just gravy.
Get Prince Fielder. He's 27 and incredibly durable (has never played less than 157 games in a full season). He'd then be the anchor for the Cubs for the foreseeable future, even if it takes a few years to build around him and Castro. Also of importance, if you bat Castro second and Fielder third, Castro's strike zone woes become less an issue (though he has walked more times than he's struck out in September, so it's getting better already).
Give Andrew Cashner one last shot to stay healthy in the rotation and also see if Samardzija can be successful as a starter. Having a rotation of Garza, Dempster, Randy Wells, Cashner and Samardzija won't be winning any championships, but Dempster is gone after 2012 and there'd be plenty of money to go after free agents. By then, they Cubs will know if they need just one guy or up to four with Garza. And the list of free agent starters after next season could have some big names -- assuming they aren't granted contract extensions -- like Matt Cain, Zack Greinke, Cole Hamels, Shaun Marcum and James Shields.
Read the riot act to Carlos Marmol. Considering the Cubs likely can't contend in 2012 and Marmol is signed through 2013, he has one year to fix himself. Marmol has blown an MLB-high 10 saves (he's tied with Jordan Walden). You can't count on closers to be perfect, but let's say Marmol only blew four saves, which is a very reasonable percentage. The Cubs would be 76-84, which isn't awful at all considering some of the injury issues and poor roster construction.
Give Bryan LaHair a shot in right field. LaHair is 28, so he's hardly a prospect, but it's possible he's a late bloomer like Ryan Ludwick or Jayson Werth. LaHair had 38 home runs, 109 RBI and a 1.070 OPS in 129 Triple-A games. He's hitting .309/.391/.545 in 19 games for the Cubs this season. Again, the eyes are on 2013 here, so if he flames out as many expect, you can address the position next offseason. But he's at least earned the chance to get an extended look in the bigs.
If the Cubs do fall out of contention in 2012, Marlon Byrd needs to be traded at the deadline and prospect Brett Jackson can then take over in center field. If Jackson is deemed ready earlier in the season and LaHair doesn't pan out, Byrd could be moved to right.
I'd personally bring back Aramis Ramirez for two or three years, assuming the Cubs don't have to break the bank. The last thing they need is another albatross contract, so if he's demanding something like four years and $50 million, it's time to move on. But if it's reasonable, it makes sense to keep him. He's only 33 and has shown has can still swing the bat. He's got to have two to three years left of above-average production at third base. Prospect Josh Vitters had completely fallen off all prospect rankings prior to this season, but rebounded with a decent showing in Double-A this season (.283/.322/.448 with 14 homers, 81 RBI and 28 doubles) and he's still only 21. In two years, the Cubs will have an idea if he is going to be the next third baseman or not. If not, they can look outside the organziation or perhaps someone in the farm system will have emerged. Keeping Ramirez is a natural bridge to when it comes to that.
And there's a lot more, too, but those are the big ones.
The main thing here is the hire a new GM that puts the main focus on building the minor-league system. That way in a few years free agency won't be the only avenue to fill out a winning ballclub. Remember, people complain about the
Yankees
, Red Sox and
Phillies
in free agency, but lots of players --
Robinson Cano
,
Derek Jeter
,
Mariano Rivera
,
Dustin Pedroia
,
Jacoby Ellsbury
,
Kevin Youkilis
,
Jon Lester
,
Chase Utley
,
Ryan Howard
, Cole Hamels and several others were developed from within the respective systems. The Cubs have been terrible at developing their own in recent years and leaned on trades and free agency to bail them out. It needs to be a combination or everything will eventually fall apart like it did this season. From there, they can start to think about breaking a faux-curse and easing the pain of the legions of true fans.
For more baseball news, rumors and analysis, follow @EyeOnBaseball on Twitter or subscribe to the RSS feed.