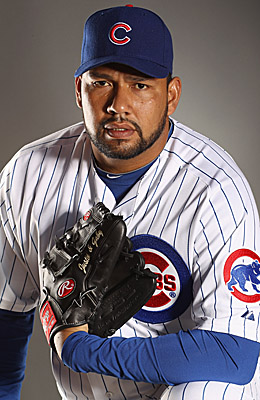 By Matt Snyder
The
Cubs
just issued a press release that
Carlos Silva
has been, uh, released. Good riddance. Now, about how it all went down ...
I like Big League Stew and David Brown, so I hope we don't get into a whole thing here, but I have to say I
don't understand this column
. Brown uses a lot of words to call out the Cubs for having a pitching coach notify Carlos Silva he wouldn't make the team instead of general manager Jim Hendry doing so. I would generally agree with that sentiment, but then I see this quote from the
Chicago Tribune
:
"I told Carlos Silva there was not a spot for him unless there's an injury between now and Opening Day," general manager Jim Hendry said. "We will explore trade opportunities with other clubs."
A little farther down in the same article, Silva mentions that the new pitching coach, Mark Riggins, was trying to talk him up and said, "Man, you've been throwing the ball good, you can pitch, all of that, blah, blah, blah. If you go out there to Triple-A and throw some games to continue building, to continue getting better ... "
If that looks like a weird quote, it's because it was
Carlos Silva
discussing the situation. It's an emotional Silva, too, who already isn't going to be mistaken for
Derek Jeter
in terms of eloquence, professionalism or, really, anything. From that, we're to gather that was how he found out he wasn't making the team. Sorry, I'm not ready to make that leap. And if I did believe every word Silva said -- I'm trying not to laugh -- the mistake would appear to be Riggins' for letting it slip. That above quote doesn't sound like Hendry sent Riggins in to break the news.
I don't want to come off like a Hendry apologist, because he's proven himself not a very good GM. When the Ricketts family pays
Kosuke Fukudome
eight figures this year or
Alfonso Soriano
$19 million in 2014 they might agree. I'm just saying this particular call-out was a big reach. Even if Silva was telling the truth, it was a minor slip-up -- in which a rookie coach accidentally let the cat out of the bag. It's much less a big deal than giving
Milton Bradley
a three-year contract -- which is the whole reason Silva's with the club anyway. In fact, the funny part of this whole thing is that Silva represents an actual good move by Hendry. He saved money in trading Bradley for Silva. Granted, it was his fault he had to deal Bradley, but he patched it up as best he could. That's about all you can ask from a middling-at-best GM.
MESSIN' WITH TEXAS:
The
Rangers
are expected to make a decision on the fifth starter Sunday. Remember, they already did, but
Tommy Hunter
injured himself the day the announcement was made. What about
Alexi Ogando
?
ESPN Dallas
makes a case.
FIVE GUYS:
MLB.com
looks at five players who need to "get it together" this season. I actually think all five will.
DEBUT ... D'OH:
Chris Dickerson
was making a good impression on his new team Saturday. He joined the
Yankees
after a trade and promptely went 3-3 with a double. His encore was leaving the game with cramps. (
MLB.com
)

SMACKDOWN:
Earlier this week, crotchety curmudgeon Murray Chass wrote one of the more ridiculous things anyone has ever written. He used a second-hand story of a third-hand account of an event taken out of context to say Stan Musial was racist. The hilarious part is Chass likes to talk about how he's a respectable journalist and refuses to acknowledge that he's a blogger. Anyway, I'm not going to get into bashing him any further, because the
great Joe Posnanski took him down
better than I could ever hope to do. And you won't find a link to Chass' blog (yep, I said it, Murray) here or there. I refuse to give hits to that clown.
PATTERSON OK:
Corey Patterson
took a high-90s fastball to the head Friday. Fortunately it hit his helmet, but that's still an awfully big impact. The good news is that he appears to be just fine. "I seem to be doing OK," Patterson said. "I got checked out at the hospital last night and the doctor said everything looked fine. There weren't any concussion symptoms, but it doesn't mean that it can't evolve into that. Just have to keep an eye on it and make sure I'm in regular contact with our trainers." (
MLB.com
)
SILENT NIGHT:
The A's may not have a radio broadcast on their flagship station this season. (
Mercury News
)
HOME SWEET HOME:
Ryan Zimmerman
wants to be with the Washington
Nationals
for a long time. It's just a matter of whether or not the Nats will pony up the kind of dough he'd command on the open market. (
Washington Post
) The smart money is on them doing so. He's the centerpiece of the team and at 26, he's hardly too old to stay for a while. Plus, unless you've been
listening to me scream about it
for the past few weeks, you might not realize the Nationals have plenty of money.

Pirates LINEUP SET:
Andrew McCutchen
has hit leadoff for 190 games in his early career. He's batted second 17 games and third 53. This season, he's going to man the three-hole for the Pirates, following
Jose Tabata
and
Neil Walker
. (
Pittsburgh Post-Gazette
)
THE GRITTY GRINDERS!
A clash between sabermatricians and old-school baseball writers has long been the contention that players like
David Eckstein
are either a) severely underrated because they do things you can't measure with stats; or b) severely overrated because the numbers show they don't help a team much. Well, the
New York Times
tries to bridge that gap by figuring team records with and without certain players. According to the metric, Ruben Tejada was the
Mets
' most valuable player while
Alex Rodriguez
is largely irrelevant to the Yankees ("they seemed to get along just fine without [him]"). There are several other oddities, such as six
Reds
having better winning percentages than league MVP
Joey Votto
. I'd be much more inclined to jump aboard here if baseball wasn't a team sport with so many factors to take into account in each and every game. For example, if a pitcher coughs up 10 runs with Votto at first base and then someone else throws a shutout on his scheduled off-day, how in God's name does that mean the team is better off without him? There are seemingly infinite examples at hand like this.
For more baseball news, rumors and analysis, follow @cbssportsmlb on Twitter or subscribe to the RSS feed.