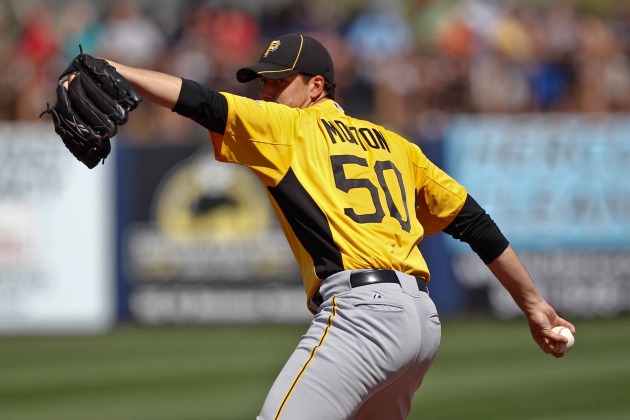 By Evan Brunell
We're getting to the part of spring training where players on the bubble who are given serious consideration for a job start looking for pink slips in their locker. Just one good (or bad, as Andrew Miller will probably find out) day could be enough to swing a decision. So who helped and hurt themselves today?
3 UP
1. 3B Brent Morel, CHW: 4 AB, 2 H. Morel's day at the plate was nothing to write home about, but he received good news earlier in the day when manager Ozzie Guillen told the youngster he had won the third base job. Morel's known for his glove more than stick, but he should be able to hold his own on offense. Now, Mark Teahen will be bumped to a backup role and certainly is available in a trade.
2. CF Chris Heisey, CIN: 6 AB, 2 R, 3 H, 2 RBI, 2 K. Heisey appears to have won the fourth outfielder's job in Cincinatti, besting Fred Lewis and Jeremy Hermida. The 26-year-old also impressed off the bench as a bench player, although he struggled when drawing the starting assignment. He could eventually emerge as a starter, but a career as a solid No. 4 outfielder appears more likely.
3. SP Charlie Morton (pictured), PIT: 6 IP, 4 H, 0 R, 0 BB, 5 K. Where did this come from? Morton has a 1.29 ERA in spring training after finishing last season with a 2-12 record and 7.57 ERA in 17 starts as a 26-year-old. However, Morton has likely fought his way into a rotation spot by dint of his excellent spring in which he has punched out eight and walked just one in 14 1/3 innings.
3 DOWN
1. DH Jack Cust, SEA: 4 AB, 1 H, 1 RBI, 3 K, 4 LOB. Seriously, this is a typical Cust line right here. Cust is known for a low batting average, strong eye and solid to good power (he banged two homers on Saturday). Cust is going to be looked upon to help Seattle move past their brutal offensive season last year, but his power has been largely dormant the last two years.
2. SP Andrew Miller, BOS: 0 IP, 4 H, 6 ER, 2 BB, 0 K. There's been plenty of ink written about the promise Andrew Miller has and how Boston may be the place for him to put it all together. One start doesn't make that go away, but this brutal outing underscores just how long to go Miller has to be anything of value to the big-league team. The odds are still stacked against him. Miller had long odds to make the Red Sox bullpen anyways, and this outing may have just sealed his fate.
3. SP Edinson Volquez, CIN: 2 1/3 IP, 1 H, 5 ER, 5 BB, 3 K. Volquez has never been one known for control, but he seems to have particularly struggled with it on his return from Tommy John surgery. That's not uncommon, but for Volquez to continue to have these issues speaks to a larger issue, whether that's a tougher time in returning from the surgery or an underlying issue of dude just not having command at all. Given the Reds lack a frontline ace despite not wanting for depth, Volquez's struggles are concerning.
For more baseball news, rumors and analysis, follow @cbssportsmlb on Twitter or subscribe to the RSS feed.