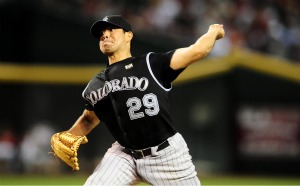 In 2010, the
Rockies
tried to make another attempt at a late-season surge that has become a trademark, but fell far short in finishing 83-79, nine games out of first.
They were one-and-a-half behind first place on Sept. 20, so that's quite a dizzying decline.
"We fell off the face of the earth," Rockies president Dick Monfort admitted to the Denver Post .
The Rockies don't plan to fall off the face again, although they'll have work on their hands to avoid that. The first priority is finding a way to replace starter Jorge de la Rosa, who looks certain to depart as a free agent. Colorado isn't willing to go more than three years for the talented but inconsistent lefty.
"[De la Rosa] told us a minimum of five years. We think [it will end up] four, but we aren't willing to do four," Monfort stated. "At three we would look at it. ... We are worried about his commitment if we go four. How would he respond to that?"
Colorado is concerned about de la Rosa's commitment after showing up to spring training in 2009 out of shape, but he may have turned a corner last season after giving birth to Twins. However, you can't base the next four-to-five years off one season of being in good condition.
The opening de la Rosa (pictured) has left in the rotation is stressing out GM Dan O'Dowd, as Monfort reveals, but it is what it is. Colorado is exporing replacing de la Rosa with a veteran along the lines of Carl Pavano, Jon Garland, Javier Vazquez, Aaron Harang, Dave Bush and Kevin Millwood in free agency. On the trade front, Gavin Floyd, Scott Kazmir and James Shields have been bandied about. The club acquired Felipe Paulino from the Astros in exchange for Clint Barmes this past week.
The Rockies also are considering adding a big bat, such as catcher Victor Martinez or Arizona's Justin Upton.
However, even if the club does import a bat, it's imperative for current Rockies of Todd Helton, Ian Stewart, Chris Iannetta and Seth Smith to improve.
Helton seems ticked for the Hall of Fame, but for now has a contract through 2013 and needs to step up after struggling to a .256/.362/.367 line in 473 plate appearances. While Helton's contract is no longer backbreaking thanks to a restructuring, he still is expected to produce.
"We need someone that can protect us at first base. But we still are all hoping Todd [bounces] back. I think he can. We don't expect a lot of power. Just those 12-pitch at-bats, getting on base," Monfort said. "That's the guy we missed."
Iannetta, meanwhile, figures to open the year as starting catcher after the club cut ties with Miguel Olivo. With a long-term contract in tow, the Rockies need Iannetta to step up and produce in the majors, not just in the minors. Meanwhile, outfielder Seth Smith struggled after finally getting his wish of being a starter.
And Ian Stewart is expected to be a 30-home run, 100-RBI producer, but hit 18 home runs in 2010, including with almost a month of time missed to injury. Stewart holds the key to the team, as Monfort reveals.
"If he can become a 30-home run, 100-RBI guy, we could win the division," Monfort said. "We need those guys to step up. Iannetta needs to respond. Smith wanted to be a starter, then struggled. We are hoping that [new hitting coach] Carney [Lansford] will be a little more forceful with them. They need to get it done."
It took the Rockies 12 seasons to get back to the playoffs after losing the division series in 1995 after the 1993 inception of the club. They have no interest in another prolonged drought, especially with
Ubaldo Jimenez
,
Carlos Gonzalez
and Troy
Tulowitzki's contracts affording the Rockies just a three-to-four year window of contention, unless Colorado comes up with the funds to resign the trio.

However, with a modest payroll ($86 million in 2010), the Rockies may not be able to do that. To raise payroll, ticket prices would have to be raised, and that has not happened in years.

The time to win is now in Colorado.

-- Evan Brunell


For more baseball news, rumors and analysis, follow @cbssportsmlb on Twitter or subscribe to the RSS feed.