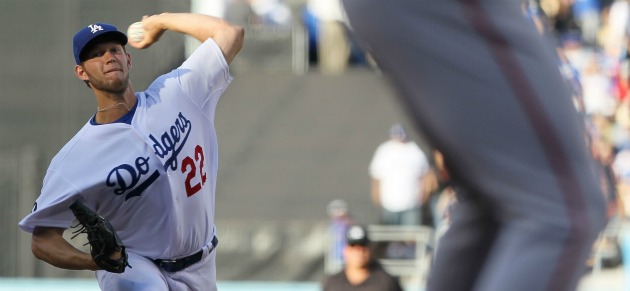 By C. Trent Rosecrans
Dodgers left-hander Clayton Kershaw added the National League Cy Young Award to his pitching Triple Crown on Thursday, beating Phillies' right-hander Roy Halladay to win his first Cy Young.
The 23-year-old Kershaw led the National League with 21 wins, a 2.28 ERA and 248 strikeouts. He also led the league with a 0.977 WHIP, was named to his first All-Star team and won the Gold Glove -- in all, a pretty good year. He received 27 of the 32 first-place votes in voting done by the Baseball Writers Association of America. Halladay received four first-place votes, while fourth-place finisher Ian Kennedy received the other. Halladay's teammate, Cliff Lee, finished third, but didn't receive a first-place vote.
Halladay, 34, missed out on his third Cy Young Award, winning it in 2010 for the Phillies and in 2003 while in Toronto. Halladay went 19-6 with a 2.35 ERA and 208 strikeouts, leading the league with eight complete games. He also led the National League in ERA+ with a 164. ERA+ measures a pitcher's ERA against the league average and takes park factors into effect.

Three Phillies finished in the top fiive, with left-hander Cole Hamels finishing fifth. In all, four Giants received votes, with Tim Lincecum finishing sixth, Matt Cain eighth and Madison Bumgarner and Ryan Vogelsong tying for 11th with one fifth-place vote each.

In the end, though, it came down to Kershaw and Halladay. Either was a good choice, but Kershaw's Triple Crown may have pushed him over the top. He was one of the bright spots -- along with Matt Kemp -- of a pretty dark year for the Dodgers. Even though Kershaw made his first All-Star team with a 9-4 record and 3.03 ERA in the first half, he won the Cy Young in the second half, when he went 12-2 with a 1.31 ERA. He also dominated at Dodger Stadium, going 12-1 with a 1.69 ERA in 16 starts at home, with his only home loss coming on April 16, his second home start of the season.

"I always dreamed about playing in the big leagues. I never dreamed about doing anything special in the big leagues. I don't think any kid ever does," Kershaw said. "The people I'm now associated with, just by having this award, is something that I never thought would ever happen."

It is the 10th time a Dodgers pitcher has won the award, joining three-time winner Sandy Koufax, Don Newcombe, Don Drysdale, Mike Marshall, Fernando Valezuela, Orel Hershiser and Eric Gagne. Being left-handed, the comparisons to Koufax have naturally come up, though Kershaw said he was uncomfortable with the comparison.

"I'm still uncomfortable with it. I don't want to have any disrespect for Mr. Koufax. He did it for a long time. He won a lot of awards and he won World Series. He threw no-hitters. Just a lot of things I'm not anywhere close to accomplishing yet," Kershaw said. "I have tremendous respect for him and would never want to ever put myself in the same category as him."
Previous Cy Young Award winners.
For more baseball news, rumors and analysis, follow @eyeonbaseball on Twitter or subscribe to the RSS feed.