By C. Trent Rosecrans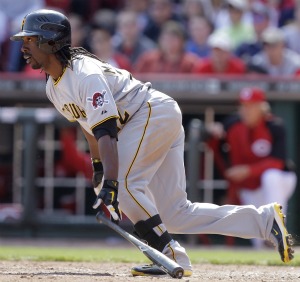 CINCINNATI -- Sitting on the couch in the visitor's clubhouse,
Andrew McCutchen
watched himself reach out and send a
Logan Ondrusek
pitch into center field, scoring the eventual game-winning run in the
Pirates
' 7-6 victory over the
Reds
on Sunday.
Behind him, Pittsburgh outfielder
Matt Diaz
asked him, "Who is that kid?"
"I don't know -- just got called up today," McCutchen deadpanned.
The player on the field Sunday looked nothing like the one that had just three hits in his previous eight games and was hitting .204. The guy wearing No. 22 at Great American Ball Park on Sunday couldn't make an out at the plate (he did get caught stealing), finishing 3 for 3 with two walks and led off the game with his third home run of the season before knocking in the winning run in the eighth inning and corralling the final out for a Pirate victory.
"It was just a mater of time," McCutchen said. "All I could do is laugh about it, because that's not me, it's not what I do. All I could do is laugh, because I knew it was going to turn around eventually and now it's starting to turn around and I feel good and we'll go from here."
In the early season rollercoaster of averaging stats, Sunday's small sample sized helped McCutchen raise his batting averaged .046 points -- "I wish you could do that throughout the season, it'd be nice," he said.
The way math works, though, it can be just as devastating. McCutchen knows that, hitting .389/.500/.833 after his first five games and .204/.328/.367 after 13 games. After the 14th, he was back to .250/.381/.462.
"Time will tell, but it was an awful good day for him," Pirates manager Clint Hurdle said. "He's been working hard and battling and believing in himself. Everything starts with a thought, no matter how bad the day, you always try to remember in this game you're never as good as you think you are and you're never as bad as you think you are, and this kid's a good player."
McCutchen led off the game with a homer off of Reds starter
Edinson Volquez
and
Jose Tabata
then followed with another homer on the next pitch, marking just the third time in Pittsburgh history that Pirate batters have hit back-to-back homers to start a game.
"I smacked his hand, maybe that helped," McCutchen said. "Maybe it was electric energy or something."
That's exactly what McCutchen is for this Pirates team. He's electric -- if he's on, the team can be on.
The Pirates won three of their first five during his hot start, while they struggled when he saw his average drop from .389 to .196. In the team's six wins, he's hitting .320 with a .433 on-base percentage. The team has also won all three games in which he's homered. In a recent eight-game stretch that saw six losses, McCutchen was hitting just .097/.222/.097.
That leadoff home run on Sunday was just the burst of energy the Pirates needed, adding three more runs in the opening frame.
"A home run, a hit or getting on base with a walk, whatever -- if I can start the game off by helping the team out by not making an out, it definitely makes me feel good about the coming at-bats," McCutchen said.
It also makes his team feel good about their chances.
For more baseball news, rumors and analysis, follow @cbssportsmlb on Twitter or subscribe to the RSS feed.