By Evan Brunell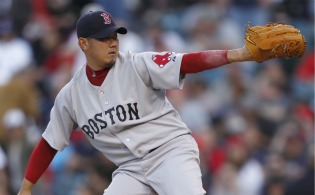 Mere hours after manager Terry Francona said that
Daisuke Matsuzaka
would not undergo surgery and continue his rehab process after receiving a second opinion from Dr. Lewis Yocum,
Nikkan Sports
, translation courtesy
Daigo Fujiwara
, is reporting that the right-hander needs Tommy John surgery.
This doesn't come as a surprise given Matsuzaka's injury, but Francona
reacted harshly
to a
Sports Illustrated
report last week, calling the report unprofessional and saying Dice-K would not be undergoing Tommy John.
Tim Brown of
Yahoo! Sports
added that Matsuzaka is leaning toward Tommy John surgery after Yocum found a significant tear and recommended the surgery.
"Diagnostically, everything is kind of the same," Francona had told WEEI earlier Saturday after Matsuzaka received further consultation in Japan after the Yocum second opinion, in what is now a clear indication that everything is not diagnostically the same. "We have to figure how to best go about this. The player or pitcher has to have some opinion, too. But I think you're always going to go about it non-operatively, first. That just seems like it makes sense to me."
Matsuzaka was due back in Boston Wednesday evening and is expected to sit down with the team after Boston club doctor Thomas Gill and Yocum conferred. If true, the surgery will knock Matsuzaka out for the remainder of the year and at the very least the first half of 2012, his final year under contract with the
Red Sox
.
The club has been getting by in the rotation with
Tim Wakefield
and
Alfredo Aceves
, as the team has had to withstand an injury to
John Lackey
as well. With Lackey's return, Aceves is expected to return to the bullpen but it is questionable if the team can rely on Wakefield the entire year. That could put the club in the market for a starting pitcher at the deadline, unless they dip down to Triple-A where to prospect Felix Doubront is currently returning from an injury of his own.
For more baseball news, rumors and analysis, follow @cbssportsmlb on Twitter or subscribe to the RSS feed.