By Evan Brunell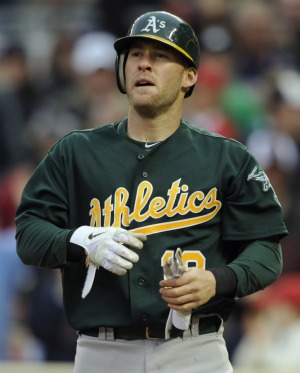 Daric Barton is known more for his glove than his offense at this stage in his career. While he can draw a walk with the best of them, his power hasn't developed as anticipated which ties up much of his value offensively in OBP and batting average.
Barton was making strides in that department to start the year, getting off to a .292 start in his first 14 games. Alas, he's 2-for-26 then and snapped a 16 at-bat hitlesss streak Saturday night with a single to put his overall average at .207. He's still been valuable with 18 walks, but his production is still a liability, especially in a power position like first base.
"I'm feeling different," Barton told the San Francisco Chronicle of his struggles. "I haven't been seeing the ball too well. I don't know if I'm pressing or not. I just feel weird. ... I don't feel like I'm playing up to my potential."
Barton's at the point where he believes he's thinking too much about his struggles and ways to fix it.
"This game is definitely not for thinkers. It's more for dummies," he said jokingly, but with a grain of truth in it.
Barton has other things weighing on his mind too, such as a potential contract extension with Oakland. The lefty will be arbitration eligible for the first time after the year which has spurred the player and organization to discuss a multiyear deal, which would give Barton financial security for life. Many players don't like discussing extensions during the season, and Barton has a reason why.
"It's always in the back of your mind," Barton said. "It's not something you like to think about, but realistically, it happens."
For more baseball news, rumors and analysis, follow @cbssportsmlb on Twitter or subscribe to the RSS feed.