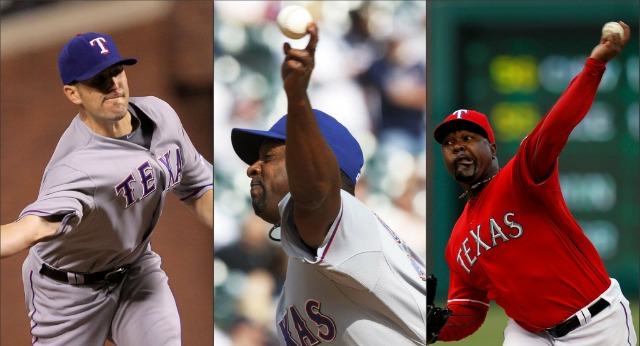 By C. Trent Rosecrans
The Rangers headed into the 2011 season fully invested in Neftali Feliz as their closer, trading Frank Francisco in the offseason and moving Alexi Ogando into the rotation to start the spring.
That left a team formerly flush with potential closers in a bind when Feliz was put on the disabled list on Saturday.
In Saturday's save situation, Ron Washington turned to veteran lefty Darren Oliver (above, middle) to get the last three outs against the Royals.
"We've got no bona fide closer right now," Washington said on Saturday, according to the Fort Worth Star-Telegram. "It's that simple."
Feliz was. WIth a 1.08 ERA in nine outings with six strikeouts in 8 1/3 innings, Feliz was a prefect 5 for 5 in save situations this season.
Now, Washington could go with Oliver, Darren O'Day or Arthur Rhodes to close out games. Of the trio, Rhodes has the most closing experience with 32 career saves, the last coming with the Marlins in 2008. The most he's had in one season is nine with Oakland in 2004.
The right-handed O'Day (above, left) had two saves for the Rangers in 2009, the only two of his career.
Oliver's save on Saturday was the fourth of his career. He had one last season and two as a rookie for the Rangers in 1994. He also set a record on Saturday, becoming the oldest Ranger to record a save. Goose Gossage had one at 40 years, 18 days in 1991. Oliver is 40 years, 199 days. But that record may not last long, Rhodes is 41.
"I figured if you're 40 years old, you're probably going to be in a lot of history books," Oliver told Anthony Andro of the Fort Worth Star-Telegram. "This is probably just one of them. Just think if Arthur saves it tomorrow, he'll be the oldest one."
Ogando, 27, looked like a closer in waiting last season, pitching 44 games out of the bullpen. He had a 1.30 ERA and 39 strikeouts in 41 2/3 innings pitch. While the Rangers' toying with Feliz in the rotation drew many of the headlines in the spring, Ogando quietly won the fifth starter's spot and has been excellent. In four starts this season, he's 3-0 with a 2.13 ERA, picking up the victory against the Royals on Saturday.
Francisco saved 25 games for the Rangers in 2009 and two last season before being supplanted by Feliz. The Rangers sent him to Toronto in exchange for Mike Napoli, who is trying to help fill the offensive void left by Josh Hamilton. Since Hamilton was injured on April 12, Napoli has started five games, with hits in his last three, including a homer on Saturday. He's caught twice, played first twice and served as the DH on Saturday.
Either Francisco or Ogando would have given the Rangers something the trio of Rhodes, O'Day and Oliver do not -- a no-doubt, go-to guy in the ninth inning.
For more baseball news, rumors and analysis, follow @cbssportsmlb on Twitter or subscribe to the RSS feed.