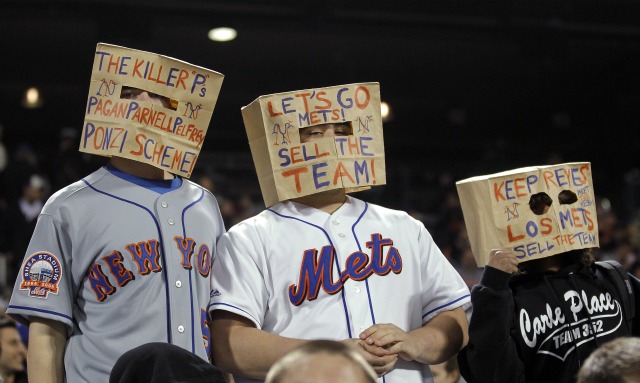 By C. Trent Rosecrans
I think I've booed once in my life and to tell you the truth, I felt like a jerk afterwards.
That was a long time ago and booing has kind of bugged me ever since. Maybe it's because I've always been harder on myself than anyone else. When I was a kid, coaches and my parents never yelled at me or criticized me because they could see I was madder about it than they were. I tried hard and hated to fail more than they hated watching me fail. I've just assumed most people are like that. Failing isn't fun.
And that's why I've just never understood booing in 99 percent of the cases it's done.
Ryan Franklin apparently aggress with me.
After Franklin, the removed Cardinals closer, gave up a home run to Laynce Nix in the eighth inning of St. Louis' first game against the Nationals on Wednesday and heard boos from the St. Louis fans.
"Sure, I hear it," Franklin told FOXSportsMidwest.com after the first game. "I guess they have short memories too, because I think I've been pretty good here. It doesn't bother me, but it shows some people's true colors. You're either a fan or you're not.
"You don't boo your own team. I don't care who you are or what you say or just because you spent your money to come here to watch us play, that someone happens to make one bad pitch and give up a homer and you are going to start booing him? I've been here for five years, and four years I've been pretty good.
"You should go write stories about the fans booing. They are supposed to be the best fans in baseball. Yeah right."
The thing is, from my travels, the Cardinals fans are the best -- especially if you want to judge them in terms of not booing. When even Cardinals fans are booing, this thing is getting big (or as a society and as baseball fans, we're becoming even bigger jerks).
Franklin later apologized, issuing a statement (via MLB.com) -- "It was right after the games and I said things I shouldn't have said. I apologize for that. It was the wrong thing to say, but at the same time, I was frustrated. I am frustrated.
"I'm just trying to do my best to do everything I can to get back on track. So that's what I'm trying to do. I'm trying to get back out there and help this team."
Franklin also said he's loved his time in St. Louis and "it's my favorite place to play. It's just a frustrating time for me right now, because I feel like I'm letting everyone down."
To me, that's what it comes down to -- this game is hard. That's why we're not all baseball players. That's why we still go and watch, you never know what's going to happen. It's people trying their best and sometimes mistakes happen. To pile on someone who knows they didn't do well just seems like a jerk move to me. What's so wrong in your life that you have to boo someone else to make you feel better about yourself? Is it the money? You don't make enough so it makes you feel better to make someone with more money feel bad? Job frustration? Problem with teh ladies? Physical shortcomings? Sometimes the boos say more about the boo-er than the boo-ee.
BASEBALL TODAY -- Matt Snyder joins Lauren Shehadi to discuss the Dodgers and more.
Mets NEXT? -- There are some folks in New York feeling a little nervous over MLB's takeover of the Dodgers. There's a difference in that the Wilpons have been Bud's buds, while McCourt hasn't always played by Bud's rules. [New York Daily News]
APRIL NOTE -- Just noting that the Reds who started 5-0 and the Rays who started 0-5 are both 9-9 now. Clip and save for next April.
BLAZING -- The great Tator Trot Tracker times Peter Bourjos rounding the bases in 14.02 seconds, which is flat flying. Texas' David Murphy misplayed Bourjos' single and Bourjos never stopped. Larry Granillo times every home run as part of his Tater Trot Tracker and the fastest inside-the-park home run last season was Angel Pagan's 14.48 inside-the-parker and Bourjos was nearly a half-second faster than that, which is amazing. (Bourjos also stole a home run from Murphy in the game.) [Baseball Prospectus]
ROAD BACK -- Adam Wainwright is in the second month of his rehab from Tommy John surgery and no longer has to sleep with his brace. [St. Louis Post-Dispatch]
ROAD BACK II, ELECTRIC BOOGALOO -- Mariners closer David Aardsma said his arm and hip felt great after pitching an inning at Triple-A Tacoma on Tuesday. [Seattle Times]
ROAD BACK III, WITH A VENGEANCE -- Royals catcher Jason Kendall hopes to return by mid-May from his shoulder injury. "I'm close," Kendall said. [MLB.com]
ROAD BACK IV, A NEW HOPE -- A's starter Dallas Braden will not need surgery on his left shoulder. Braden has inflammation in his shoulder, but no structural damage. He will have to rest and take anti-inflammatory medication, but there is no timetable for his return. [San Francisco Chronicle]
FAMILIAR TERRITORY -- Noted former Expos fan Jonah Keri looks back on the last time MLB took over a franchise. Dodger fans may want to avoid reading it. [FanGraphs.com]
FAMILIAR TERRITORY II, JUDGMENT DAY -- Dodger players asked former Expo Jamey Carroll just what it's like working for Bud. He said it really wasn't much different. [MLB.com]
SHOWALTER ON WIETERS: DEPENDS -- Orioles manager Buck Showalter says catcher Matt Wieters is entertaining -- "I'm going to start keeping a notebook of Wieterisms. He's funny. He said a couple of things in the dugout last night, I almost peed my pants. He didn't even know it. He's sharp. He's quick." [Baltimore Sun]
ATTENDANCE WATCH -- Major League Baseball's attendance problem isn't as bad as it looks. Many of the empty seats are at the high-end of the ticket spectrum, meaning the tickets closest to the field (and likely to be seen on TV) are the ones going empty. [CNBC.com]
RAMBO: ATTENDANCE WATCH II -- This season has seen four of the five smallest crowds in the history of this version of Busch Stadium. [St. Louis Post-Dispatch]
OLDEST MINOR LEAGUER -- Here's a really good read on Andy Tracy, who at 37 is the oldest position player in the minors. [The Good Men Project]
HISTORY OF THE D -- Here's a really cool poster from the Tigers' gift shop at Comerica Park that shows the history of the Tigers' D. [UniWatch Blog]
BALLPARK BEERS -- A nice look at the craft beer options at Great American Ball Park, including my go-to summer beer, Bell's Oberon. Unfortunately, Oberon's no longer on tap at GABP because of our InBev overlords. [Red Reporter]
RICKEY WINS -- The new Pepsi Max commercial featuring CC Sabathia is pretty cool. I like anything with jokes about Rickey Henderson speaking in the third person, though, so I'm an easy mark.
For more baseball news, rumors and analysis, follow @cbssportsmlb on Twitter or subscribe to the RSS feed.