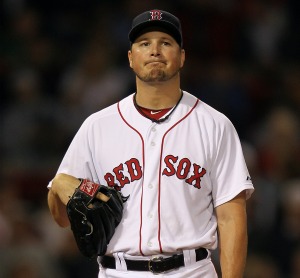 By Evan Brunell

How fun it must have been for Tom Cabral, a life-long
Yankees
fan, to serve
Erik Bedard
with court papers in the
Red Sox
clubhouse on Tuesday.
Bedard, who joined the Red Sox at the trade deadline, was served court papers in a child-custody case with his ex-girlfriend, Courtney Roberts. Cabral acted on Roberts' behalf in serving papers and wore a Yankees shirt into the clubhouse while performing his duty.
"When I walked in, I was like, 'I'm a Yankees fan, but I'm not trying to [give you a hard time],' " Cabral told the
New York Post
. "I told him that and said, 'Sorry, I've got to do this.' But he said it was no problem. I handed him the copies of all the documents and he signed them.
The Red Sox had asked Cabral to defer the papers until Wednesday as Bedard was starting Tuesday night and the team didn't want to distract him. However, Cabral couldn't accommodate the team as Roberts wanted the papers served that day.
"[The Red Sox] legal department was joking with me about it," Cabral added. "They were saying, 'That's why you're so adamant about doing it today -- you're a Yankees fan.' "
Bedard and Roberts had a previous agreement in December 2006, before his salary took off. Bedard made $1.4 million for the
Orioles
in '06 but since then has racked up over $20 million in earnings, so Roberts is trying to receive more money in child-support payments.
For more baseball news, rumors and analysis, follow @EyeonBaseball on Twitter or subscribe to the RSS feed.