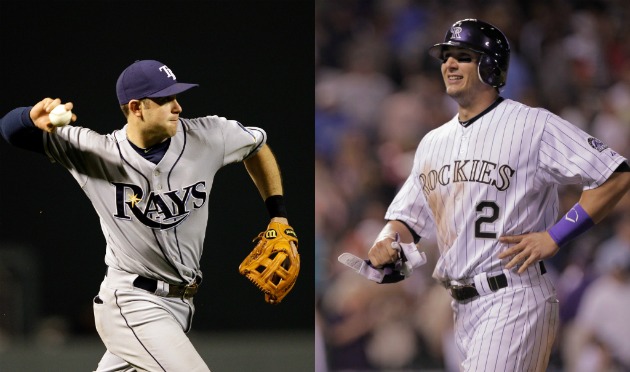 By C. Trent Rosecrans
And once again it's time for our bloodfeud showdown in the
Would You Rather Have series
, and we're still not messing around. So far it's been even difficult for Matt and I to agree -- not to mention you, but that's cool, because it's the offseason and talking about baseball is always good. When there's snow outside my window, I yearn for baseball and baseball talk, so here we go with another hypothetical to keep the boredom and basketball away.
Today, we'll look at two of the best young players in the game, that although they play different positions on the infield, are still cornerstones of their franchise --
Troy Tulowitzki
and
Evan Longoria
. So, which former Dirtbag of Long Beach State would you rather have?
The case for Tulowitzki
It's not that tough to make a case for Tulowitzki in any argument. When you bring up Tulowtizki, you're talking about a career .293/.364/.505 hitter with two Gold Gloves at the most important defensive position on the field. He's also gracious with fans and media alike, apparently a great teammate and a team player. He has a great sense of humor and has even rocked a mullet for charity. He's only 27 and is entering the prime of his career. There's almost nothing
not
to like about Tulowitzki.
The case for Longoria
A year younger than Tulowitzki, Longoria is one of the game's best players, regardless of position. A career .274/.360/.515 hitter, he's coming off what on first glance is a "down" season, hitting .244/.355/.495 with 31 homers. But look more closely and he had terrible luck, with a career-low batting average on balls in play of .239 -- nearly .100 points lower than his 2010 BABIP of .336. It's the first time in his four big-league seasons that he's had a BABIP less than .300. Despite the low BABIP, he increased his walk rate (13.9 percent) and decreased his strikeout rate (16.2 percent) in 2011, both career bests. Longoria didn't win the Gold Glove at third base in the American League for the first time since his rookie season, but there's no shame in losing to
Adrian Beltre
when it comes to fielding.
Contracts always play a big role in these kind of decisions and in most real-life decisions. That's where Longoria has the advantage. The
Rays
may have the most team-friendly contract in baseball, with control of Longoria through the 2016 season, making just $4.5 million in 2012 and $40.5 million due to him over the next five seasons (if the team exercises it's no-brainer team options in 2014-16.) Tulowitzki is also staying put for the near future -- and beyond. The
Rockies
have him signed through 2020 with a team option for 2021, when Tulowitzki will be 36, owing him at minimum $152.25 million.
Tulowitzki is aided by Coors Field, of course. That subject is going to come up anytime a Rockies player is brought up in just about any discussion -- and for good reason. As good as Tulowitzki is, he's better at Coors Field. In his career, he's a .312/.382/.549 hitter at Coors Field and a .274/.346/.462 hitter everywhere else. Last season the gap wasn't nearly as large, as he hit .310/.381/.567 at home and .292/.362/.519 on the road, with 13 of his 30 homers coming on the road.
Our call
This one may be a tad easier than our last two, but it's still a choice between two of the game's best -- but in the end, the choice is Longoria. Despite playing in fewer games by nearly a season, Longoria's accumulated a better WAR as measured by both Baseball-Reference.com (24.1 vs. 23.7) and FanGraphs (26.9 vs. 24.5), but the biggest reason is the contract status. While it's hard to fault the Rockies for locking up Tulowitzki for the better part of the rest of his career, Longoria's under contract for half the length of Tulowitzki's contract at nearly a quarter of the price. While Tulowitzki gives you positional value, it's not that much more, especially when you have elite defensive talent at both spots.
Fan Vote:
Would you rather have Tulowitzki or Longoria on your favorite team?
For more baseball news, rumors and analysis, follow @EyeOnBaseball on Twitter, subscribe to the RSS feed and "like" us on Facebook.