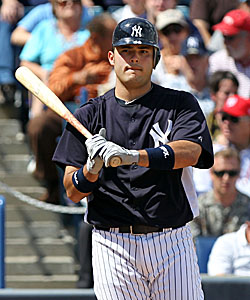 By Matt Snyder
Top
Yankees
prospect Jesus Montero is only 21 and playing his second year in Triple-A. Much of the talk from scouts is that his upside is a middle-of-the-order elite power bat, but that he's lacking in defensive skills. None of that has really changed, but a tweet from Jon Heyman of SI.com caught my eye Friday afternoon -- saying that a scout told him that Montero is
"awesomely talented but bored"
in Triple-A.
One of the reasons it caught my eye is that Montero isn't exactly lighting Triple-A on fire. Sure, he's hitting .327, but his OPS is only .772 due to having only taken four walks and hit two home runs. In his 113 at-bats, he's struck out 24 times, too. Add everything up and he's doing well, but hardly putting up Ruthian numbers.
Another reason is that the Yankees' catchers at the big-league level -- who are far superior in terms of defense and working with the pitcher on the mound -- are actually faring quite well at the plate. Played mostly by
Russell Martin
and
Francisco Cervelli
, Yankees catchers are collectively hitting .250 with a 346 on-base percentage, seven home runs and 27 RBI. The .837 OPS is outstanding for a group of catchers that doesn't include someone like
Joe Mauer
,
Victor Martinez
or
Buster Posey
. So promoting Montero would not only harm the defense, there's a decent chance you'd see an offensive regression.
So that leaves the designated hitter spot, which is more natural for Montero at this point anyway, and it's manned by
Jorge Posada
. And Posada is struggling.
The 39-year-old former catcher is hitting .172 with six home runs, 15 RBI and a .625 OPS. He's come through with a few big hits and has taken 15 walks, but overall he's not been productive enough to keep at the DH spot all season. It's just that I can't see the Yankees giving up on Posada right now to promote a 21-year-old free-swinger and then insert him into the pressure-packed AL East race. Not yet. Plus,
Eric Chavez
is reportedly going to be coming back within the next few weeks.
It all boils down to this: If Montero wants a call before September, he's going to have to start putting up a sick line in Triple-A while Posada, Chavez and anyone else the Yankees try in the DH spot fail. With everything the way it currently stands, he's just going to have to continue being bored in the minors.
For more baseball news, rumors and analysis, follow @cbssportsmlb on Twitter or subscribe to the RSS feed.