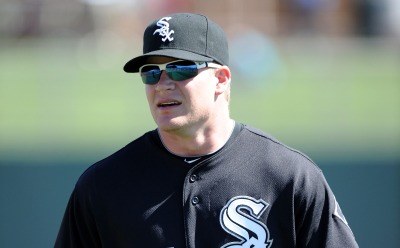 By Evan Brunell
3 UP
1. SP Kyle Davies, KC: 3 IP, 4 H, 0 R, 1 BB, 3 K. An impressive outing for Davies, who lowered his spring ERA to 2.57. This from a guy with a career 5.49 ERA, but he's just 27. The Royals could really use a leap ahead by Davies, as the rotation looks downright frightful in what is going to be a very long season for Royals fans as they await the new guard. In the same game, Dontrelle Willis hurled two perfect innings and is shaping up nicely to claim a spot in the Reds' bullpen.
2. CF Chris Young, ARI: 4 AB, 2 R, 2 H, 4 RBI, 1 HR. Young has 30-homer power, but has yet to truly break out into being a star. He doesn't necessarily need to to provide value to the Diamondbacks, especially given his strong defense, but what's holding him back is batting average with a career .241 mark. Even after Tuesday's explosion with a two-run homer, Young's at a .250 batting average. He is what he is at this point in his career, and as long as he keeps boppin' them homers, he'll do just fine.
3. 2B Gordon Beckham, CHW: 4 AB, 1 R, 3 H, 1 RBI. Great day for Beckham, who is now batting .412 on spring training. Beckham got 2010 off to a brutal start before recovering down the stretch, but his season was already ruined statistically. A great sleeper as someone who could break out into a star.
3 DOWN
1. SP Zack Greinke, MIL. The Brewers' new ace will have to wait to make his debut, as bruised and fractured ribs will sideline Greinke for the first couple weeks of the season, if not longer. Milwaukee should be very concerned about its depth, of which it has none to replace Greinke. Manny Parra is a failed starter, and going with Mark Rogers is fraught with risk. By the way, in Tuesday's game, Brewers third baseman Casey McGehee took exception to the Dodgers' Roman Colon fist-pumping after a strikeout. Benches cleared, but no punches were thrown.
2. SP Oliver Perez, NYM: 3 IP, 4 H, 3 ER, 2 BB, 1 K. Perez had two scoreless innings to finish his outing, but that underscores how bad he got the first inning started by allowing the first four batters to reach. This figures to be the end of the line for the experiment doomed to fail with Ollie as starting pitcher. Never fear, Perez fans: the Mets will continue to give lip service toward the lefty making the team as a reliever.
3. SP Brandon Dickson, STL: 3 IP, 5 H, 5 R, 4 ER, 1 BB, 2 K. Dickson can't be too pleased with this outing as there's a job up for grabs that he's in the running for: Adam Wainwright's replacement. The righty is battling with several other candidates, but there are no clear-cut ones, so every outing counts, even if people are still working out the kinks this early in the spring training schedule.
HONORABLE MENTION
Brian Wilson, for making his beard even more legen -- wait for it -- dary, courtesy MLB.com.
For more baseball news, rumors and analysis, follow @cbssportsmlb on Twitter or subscribe to the RSS feed.