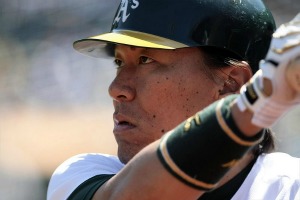 By C. Trent Rosecrans
In news that will make millions in Japan happy, Susan Slusser of the San Francisco Chronicle reports the A's are likely to re-sign designated hitter Hideki Matsui, meaning the season-opening series between Oakland and Seattle in Tokyo will feature the country's two favorite exports.
Earlier Wednesday, Major League Baseball announced the season-opening series at the Tokyo Dome against the A's and Mariners. Ichiro Suzuki is under contract with the Mariners for next season, and both Matsui and the A's are interested the 37-year-old returning to Oakland for 2012.
"He's the one free agent we'd seriously consider for a number of reasons," an A's official told Slusser.
Matsui made $4.25 million this season and would likely cost less in 2012. Slusser suggest he could sign for $2 million, making a mid-season DFA wouldn't hurt the A's bottom line. Although he hit just .252/.322/.377 with 12 home runs and 72 RBI, he did play better after Bob Melvin took over, hitting .298/.356/.429 with six homers in the second half of the season. He also is a good presence in the clubhouse and brings in more money for the team in Japanese sponsorships and increased merchandise sales in Japan.
It's tough to overstate Matsui's popularity in Japan. Although Suzuki is the bigger star in the U.S., Matsui has been a folk hero since his high school days and then played for the country's most popular team, the Yomiuri Giants. He hit 332 home runs while in Japan and won three MVPs. He also led his team to three Japan Series titles and his standing was elevated even more when he became a member of the Yankees.
The return of Ichiro to Japan was sure to be a big deal for those two games in Tokyo, but the addition of Matsui will make it even more exciting -- and lucrative.
For more baseball news, rumors and analysis, follow @eyeonbaseball on Twitter or subscribe to the RSS feed.