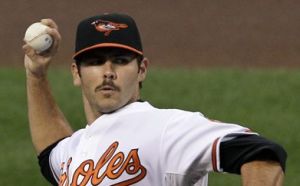 Jake Arrieta
may be shut down for the season, bringing an end to a successful year that saw the 24-year-old make his major-league debut.
Arrieta blanked the
Blue Jays
over six innings Tuesday night to move to 6-6 with a 4.66 ERA in 18 starts over 100 1/3 innings. Arrieta also has 73 innings of work down in Triple-A, posting a sterling 1.85 ERA.
"He's at 176-ish right now. 180-ish is probably the limit you take him," manager Buck Showalter said of Arrieta's pitch limits to the
Baltimore Sun
. "He's about 20-plus over, so that's a real quality question. If he hears something about that, he'll hear it from me first. Ask me tomorrow."
While the
Orioles
have never publicized their pitch count barometers, the
Sun
's Jeff Zrebiec notes that the Orioles consider anything higher than 30 innings over the previous limit dangerous. For Arrieta, that's 150 2/3 innings reached in 2009.
"I definitely don't want to be shut down," Arrieta contradicted, unsurprisingly. "I'd like to finish the season out with everybody. The rest of the guys are going to be here working for the last two or three weeks of the season and I want to be doing the same thing. But anytime you finish the season you want to finish on a high note.
"If something like that were to happen, an outing like this is a good one to end on. But I'd like to make my last two starts."
Given the Orioles may be nearing limits on
Brad Bergesen
,
Chris Tillman
and
Brian Matusz
, Baltimore would likely slot in a veteran pitcher to keep the current six-man rotation intact.
Rick VandenHurk
is the most likely replacement, although
Mark Hendrickson
,
Troy Patton
or
Pedro Viola
could also be tabbed.
-- Evan Brunell
For more baseball news, rumors and analysis, follow @cbssportsmlb on Twitter or subscribe to the RSS feed .