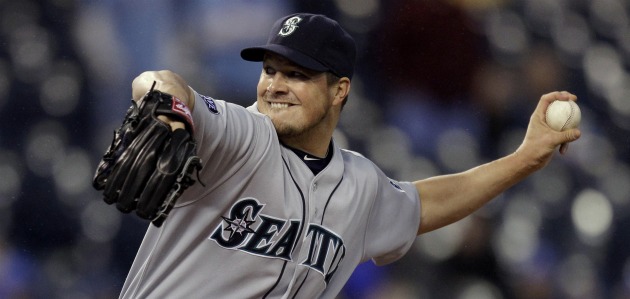 By C. Trent Rosecrans
3UP
Erik Bedard, Mariners -- The left-hander picked up his first win since June 2009, as Seattle beat Detroit and Justin Verlander 10-1 on Wednesday. Bedard gave up a run on five hits with three strikeouts and no walks in seven innings.
Daniel Murphy, Mets -- As a pinch-hitter in the eighth inning, Murphy tied the game with his second homer of the year and then in the ninth he added a two-run double to help extend the Mets' winning streak to six games with a 6-3 victory over the Nationals.
James McDonald, Pirates and Madison Bumgarner, Giants -- This afternoon I called it the worst pitching matchup of the day and it was anything but -- I just wanted to give credit where credit was due here. Both pitchers went six innings, with Bumgarner giving up just one run on five hits, while striking out seven. McDonald allowed just four hits in his six scoreless innings, earning the win.
3DOWN
Jacoby Ellsbury, Red Sox -- Boston's center fielder let a ball drop in front of him for a double with two outs. Two outs later, Luke Scott, hit a three-run homer for a 3-0 Baltimore lead. The Red Sox went on to lose, 5-4.
Carlos Lee, Astros -- Back-to-back Cardinals singled in runs from second by hitting grounders past the third baseman into left field, where just about any other left fielder in the game (well, maybe not Johnny Damon) throws out the runners at the plate. Instead, with Lee, the two runners score easily and St. Louis adds to its lead, which was 6-0 going into the eighth. Houston scored three in the eighth and two in the ninth, falling 6-5. That's not to mention his offensive woes -- Lee was 0 for 4 on Thursday and is hitless in his last 15 at-bats.
Vernon Wells, Angels -- Much of the preseason there was talk of the great outfield defense the Angles would have this season, but Wells hasn't been able to live up to the billing. He misplayed a ball in the 10th inning, giving Oakland's Cliff Pennington a triple with no outs. Conor Jackson then drove in Pennington with the winning run, And, like Lee, that's not even talking about his offensive offense -- Wells is hitting just .178/.224/.257 so far this season.
For more baseball news, rumors and analysis, follow @cbssportsmlb on Twitter or subscribe to the RSS feed.