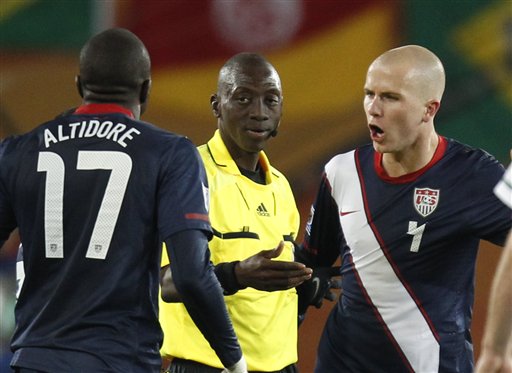 Suck it world!
U-S-A! U-S-A! U-S-A!
Sure, it's just a draw against Slovenia, but the rest of the world has soccer and Koman Coulibaly and we've got baseball and Jim Joyce.
Put aside the fact Joyce's reliever mustache is manlier than anything any non-American can grow, but he's also man enough to admit his mistake. Soccer referees have that silly Madonna head mic, but still remain silent.
We all know the story of Joyce and the way he dealt with his blown call. He manned up and admitted it.
Then there's Coulibaly. If you're one of those who doesn't want to hear about soccer, you should just so you can tell the rest of the world where to put their red card. So, for you, here's what happened. The United States was down 2-0 to Slovenia before scoring two goals in the second half to tie the game.
In the 86th minute (of 90), Landon Donovan placed a perfect free kick to Maurice Edu, who made the play and apparently put the U.S. up 3-2.
Instead, Coulibaly whistled a foul
.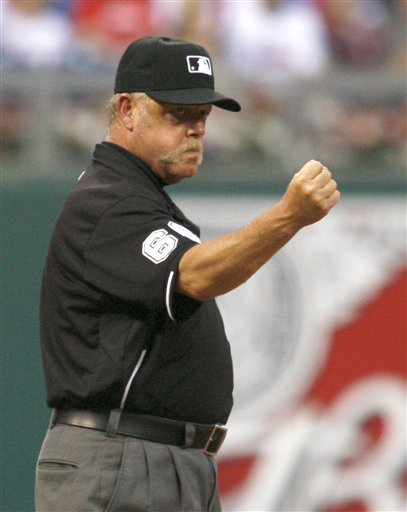 On who?
"I'm not sure what the call was," said Donovan, the team's captain. "He wouldn't tell us what the call was."
Donovan added: "It was the guy's first World Cup game, maybe he got caught up in the moment."
The same could be said of Joyce, but afterwards, Joyce said he blew the call and took responsibility. FIFA issued a statement that Coulibaly had no comment on his call, he hid behind the governing body of soccer.
Officiating any sport isn't easy, especially at its highest levels. Athletes are better than ever and making split-second judgements are never going to be easy, especially with millions of people watching in high definition around the world.
The difference is how you deal with messing up, whether it's how a pitcher reacts to giving up a home run, a goalkeeper bouncing back from a bad goal or an official missing the call.
In baseball, Joyce stands as an example of what we want in sport and in the justice system -- a little accountability. Soccer officials aren't perfect and neither are umpires, but we've got Joyce and his glorious facial hair on our side. So no matter what else happens in South Africa, we have reason to stand tall and make asses of ourselves across the globe.
U-S-A! U-S-A!
-- C. Trent Rosecrans
For more baseball news, rumors and analysis, follow @cbssportsmlb on Twitter.