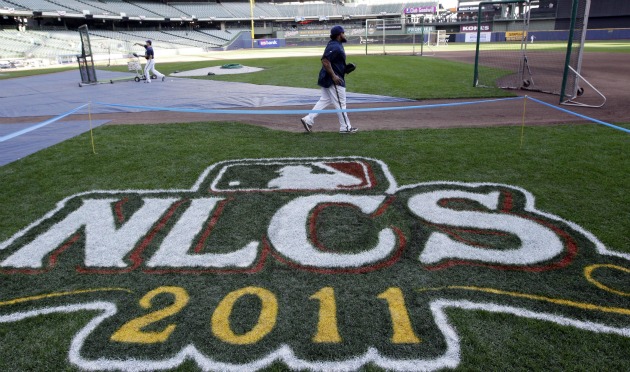 By C. Trent Rosecrans
MILWAUKEE -- The National League Central is often overlooked or looked down upon -- but not this year, as the NL Central champs have to fight off their divisional rival with the winner headed to the World Series. What makes this matchup even more fun is that these two clubs don't like each other one bit.

There was a dust up late in the season between Milwaukee's Nyjer Morgan and the Cardinals' Chris Carpenter. There was also an accusation by the Cardinals that the Brewers were using different graphics on the Miller Park scoreboards to create an advantage while the Cardinals were batting. And even Saturday, Zack Greinke got the ball rolling by making comments about Carpenter, which got Cardinals manager Tony La Russa upset.

It's a contrast in style -- if only in the surface style. The Brewers are young, brash and loud. The Cardinals sit on their porch and tell them to get off their lawn.

On the field, both teams have some impressive individual pitchers, but got to the playoffs on the strength of their bats. While the Brewers won the National League Central, the two teams split their 18-game series during the regular season. While it won't bring in the ratings like some bigger markets might, it should appeal to true baseball fans.
TEAM INFORMATION

St. Louis Cardinals (host games 3, 4, 5*)
90-72, NL wild card winner
ALDS: Defeated Phillies in 5 games -- View coverage of NLDS Phillies-Cardinals
Manager: Tony La Russa
Regular-season batting statistics: .273 batting average (1st in NL), .341 on-base percentage (1st), .425 slugging percentage (1st)
Regular-season pitching statistics: 3.78 ERA (8th), 1.31 WHIP (10th), 2.45 K/BB (5th)
Star player: 1B Albert Pujols -- .299/.366/.541, 651 plate appearances, 37 HR 99 RBI

Miwaukee Brewers (host games 1, 2, 6*, 7*)
96-66, NL Central champions
ALDS: Defeated Diamondbacks in 5 games -- View coverage of NLDS Brewers-Diamondbacks
Manager: Ron Roenicke
Regular-season batting statistics: .261 batting average (3rd), .325 on-base percentage (5th), .425 slugging percentage (1st)
Regular-season pitching statistics: 3.63 ERA (7th), 1.24 WHIP (3rd), 2.86 K/BB (2nd)
Star player: LF Ryan Braun -- .332/.397/.597, 629 plate appearances, 33 HR, 111 RBI
*if necessary
WHO HAS THE EDGE?
Let's break each position down and see which team has the edge…
Catcher: Yadier Molina vs. Jonathan Lucroy



Perhaps the best defensive catcher in the game also hit .305/.349/.465 this season … that's Molina if you weren't sure, or weren't watching Game 5 of the NLDS when he threw out Chase Utley at second. Molina seemingly does it all. Lucroy may be best known as the "guy who can't really hit," even if he hit a pretty respectable .265/.313/.391 with 12 homers.
First base: Albert Pujols vs. Prince Fielder


You want to talk about a heavyweight battle? You have perhaps baseball's best player versus a guy who had an MVP-worthy season. You also have two of the offseason's premier free agents. Fielder's 27, so who knows exactly who is going to get the bigger contract between him and the 31-year-old Pujols, but there's no question as to who is the better all-around player. Pujols is not only the most feared hitter in the league, he's also a guy who can beat you with his glove and his base running in addition to his bat.
Second base: Ryan Theriot vs. Rickie Weeks


Theriot's a much better second baseman than he his shortstop, so the good news is that he's at second base, although he's still not exactly a Gold Glover -- of course, neither is Weeks. Both garner their value with their bats, not their gloves. When healthy, Weeks is probably the better player. But he hasn't looked healthy and he was just 1 for 18 in the NLDS against the Cardinals. At the beginning of the year, this was an easy choice. Today it is, too, but it's the other way.
Shortstop: Rafael Furcal vs. Yuniesky Betancourt


Once the Cardinals got Furcal from the Dodgers and he returned healthy, the Cardinals were a much better team. St. Louis has gone 30-20 in games which Furcal has played. Even though his stats are a less-than-impressive .255/.316/.418 with the Cardinals, the threat he brings at the top of the lineup coupled with how much he improves the team's defense, St. Louis is better because of him. The Brewers have Yuniesky Betancourt at shortstop.
Third base: David Freese vs. Jerry Hairston Jr.


Freese may be one of the more underrated players the Cardinals have. While we all know about Pujols and Matt Holliday and Lance Berkman and even the likes of Molina and Theriot, Freese is a guy you have to watch in that lineup. He hit .297/.350/.441 this season, but injuries have been a problem in his career. When healthy, he's a vital part of the the team's offense after the big boppers. Hairston is a journeyman utility player -- and those are great to have. He's a fantastic role player that has been in some winning situations the last few years, but there's a reason he's moved around both on the field and to different clubhouses. He's always in demand, but he's no longer an everyday player.
Left field: Matt Holliday vs. Ryan Braun


If the first base matchup weren't so good, this one would be getting the headlines. Braun would be my choice for the MVP in the National League, and Holliday is one of the more underrated players in the game. Cardinals fans love to hate the guy because of what he hasn't done, while ignoring the production he has put up in a Cardinals uniform. The guy is an absolute monster. However, he's hurt right now -- and like the Theriot vs. Weeks argument, that looms large in this matchup.
Center field: John Jay vs. Nyjer Morgan/Chris Gomez


Morgan's the hot name right now for his outrageous and engaging personality. His Game 5 heroics even overshadowed the fact that he hit .188 in the NLDS. As bad as that is, it was better than Jay's .162. Morgan brings enough to the team to give Milwaukee the slight edge.
Right field: Lance Berkman vs. Corey Hart


Hart's another one of those players who gets lost among all the other good players in this series. He hit .285/.356/.510 with 26 homers this season, much of it out of the leadoff spot. But as good of a season as he's had, it pales in comparison to the season Berkman put together. A year after it seemed like he had nothing left in the tank, he was refueled with premium, hitting .301/.412/.547 with 31 homers.
Starting pitching: Jaime Garcia, Edwin Jackson, Chris Carpenter, Kyle Lohse vs. Zack Greinke, Shaun Marcum, Yovani Gallardo, Randy Wolf


Both teams needed to use their best playoff pitchers on Friday, meaning the Game 3 matchup in St. Louis of Carpenter-Gallardo should be a good one. Garcia's been a different pitcher on the road (the 3.33 ERA vs. 2.92 isn't so bad, but batters are hitting a robust .313 against him away from Busch Stadium and .230 in the shadow of the arch). Lohse and Wolf are wild cards, while Greinke should pitch better than he did against the Diamondbacks. Both have their solid points and their question marks. In the end, it may be too close to call.
Relief pitching: Jason Motte and co. vs. John Axford and co.


Give credit to Cardinals general manager John Mozeliak for going out and improving the team's bullpen at the break. For much of the season, the bullpen was a weak point, but Mozeliak strengthened it during the season and the bullpen has become a strength. Milwaukee also went out and made a bold move for a setup man, picking up Francisco Rodriguez. Both teams have to feel good when their manager goes out to the mound to make a change.
Defense


Neither team is going to put on a clinic, but the addition of Furcal has improved St. Louis' defense to the acceptable level. Almost. With Pujols and Furcal they have players who can field the ball, so there's that. The Brewers have Yuniesky Betancourt at shortstop
PREDICTION
While these may not be the two best teams in the National Leauge, they certainly make for an intriguing matchup. No matter how many times each team says its letting bygones be bygones, they don't really like each other -- and the national spotlight could turn up the heat. The two teams split their 18-game season series, with each team going 5-4 on their home field. The way the Brewers play at home, they could be tough to beat here. In the end, I see it going the distance and the fact that four of the games are at Miller Park being the biggest difference. Brewers in 7.
For more baseball news, rumors and analysis, follow @cbssportsmlb on Twitter or subscribe to the RSS feed.