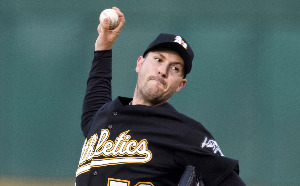 Justin Duchscherer
can't seem to put injuries behind him, but the latest news has the 32-year-old a month away from throwing off a mound.
The Duke underwent elbow surgery in early 2009 and missed the season on rehab and resulting clinical depression issues. He was able to open 2010 in the rotation for his second year of being a starter. He piggybacked off 2008's success by posting a 2.89 ERA in five starts before his congenital hip problems flared up. He joined the team in Anaheim Monday for the first time since mid-May, expressing relief he was back in uniform.
"It's difficult when you're on a team but not able to do your part," he
told MLB.com
. "It's hard to watch. It's hard not to beat yourself up about it. I want to contribute and I want to help, but I can't."
The righty previously had surgery in the right hip to correct a condition that besets the femur when it meets the joint, but the left hip needed the procedure that takes about six months to recover from. That occurred in the first week of June to sensational results.
"I don't feel anything's wrong with me anymore," the righty said. "Going into the season, I had that back problem, which we found out was stemming from my hip. My hip's been fixed -- both have been fixed -- and my elbow's fixed. I can't imagine what else could go wrong."
Despite having missed parts of the last four seasons to injury, he has no plans to hang up his cleats for good. After all, health is the issue, not effectiveness.
"When I'm healthy, I've always proven that I can pitch," he added. "The thing I have to prove is that I can stay healthy. I haven't shown that yet. That's the worst part about that, being a baseball player and knowing I can do it but not physically being able to. So that's my goal, whether it's here or somewhere else. I'm a baseball player, and I'd like to pitch at least a few more years. I'm too young to try to move on to something else."
Making $1.75 million on the year, Duchscherer is a free agent and would love to return to Oakland, but knows it's not completely up to him.
"If [Oakland's] interested, that's great," he said. "I'd be certainly up to coming back here, but they've got some great pitching, and that's a tribute to them. I don't know if I'll fit. You never know, but we'll see what happens. I'm open to it.
"I just want to be able to tell the organization thanks. When I move on, if I go somewhere else, this will always hold a special place in my heart."
-- Evan Brunell
For more baseball news, rumors and analysis, follow @cbssportsmlb on Twitter or subscribe to the RSS feed .