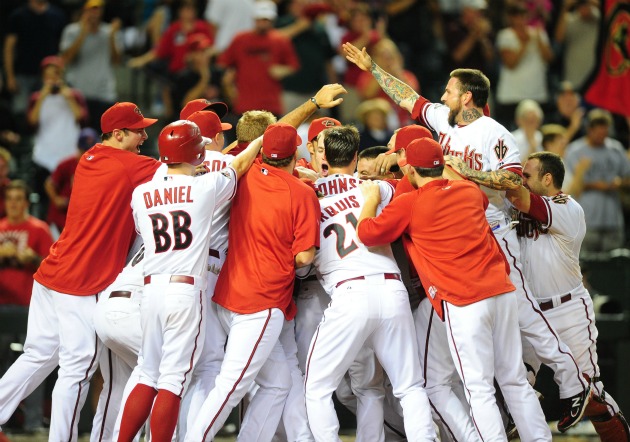 By C. Trent Rosecrans
If newspapers still existed and you opened one up this morning, you'd open up the sports section and see that the Arizona Diamondbacks were in first place in the National League West. It's one of those things that nobody really expected to see on Aug. 12, but there it is. I sure didn't expect it, and wasn't sure I knew exactly how it happened. So, I figured I could research the whole thing and write something about it, or I could go to someone who has been there the entire season, so I e-mailed my buddy Nick Piecoro of the Arizona Republic.
Piecoro is in his fifth season covering the Diamondbacks. I first met him in the press box at Chase Field in 2007 when he was surfing my iTunes library from his computer and sought me out to talk music. Since then, we've had numerous pizzas and beers together, talking baseball and, more often, music. So when I thought about the Diamondbacks, I quickly thought of Nick. And then I thought this might be a good weekly feature looking at some of the teams around MLB from the people who see them the most and know them the best. So, for the first installment of the Beat Down, here's Nick Piecoro of the Arizona Republic:
Eye On Baseball: So, really, first-place Diamondbacks? Really? Give me the short version of how this happened...
Nick Piecoro: I know, right? Well, there are a bunch of reasons. I'll start with the emergence of Justin Upton, who has turned into a force in the middle of the lineup, a threat to do damage every time he's up. They lead the league in home runs, so there's a real element of a quick-strike offense. And if you look at their Baseball-Reference page, pretty much everyone in the lineup is at least close to a 100 OPS+, meaning there are no black holes in the lineup.
Then there's the pitching staff. Ian Kennedy has pitched like a No. 1, and Daniel Hudson, Joe Saunders and Josh Collmenter (he of tomahawk-throwing fame) have slotted in well behind him. In the bullpen, they no longer cough up leads every night, and that's thanks mainly to Kevin Towers acquisitions David Hernandez and J.J. Putz.
EOB: Did you see this coming? I sure didn't. I will say, our senior writers -- Scott Miller and Danny Knobler -- did say the D-Backs would be interesting this year, but I don't think any of us expected this.
NP: No way, not me. In spring training, they were a disaster. Part of the reason they've been able to turn it around is because they were quick to act to make changes with guys who weren't getting the job done, and the list is long: Armando Galarraga, Barry Enright, Russell Branyan, Melvin Mora, Aaron Heilman, Juan Miranda, Zach Duke. Some got more rope than others, but the point is, anyone making predictions before the season was looking at a completely different roster than what they have now. Heck, Ryan Roberts, who has 15 home runs, wouldn't have made the team in spring training if not for Geoff Blum's injury.
EOB: How much of this is Kirk Gibson? Is the attitude he brought real? Has it actually changed things?
NP: You have to give him credit, certainly. You hear people talk about a manager's personality rubbing off on his team, it's hard not to see some of that with this group of guys, particularly when it comes to their penchant for comebacks and the whole never-say-die stuff. They're a hard-nosed bunch and that's exactly the kind of player Gibson was and manager he is. Personally, I've always been skeptical of a manager's impact; I mean, all the stuff above explains their status as contenders well enough in my mind. (That and the fact the NL West and the NL as a whole is mostly devoid of good teams.) A friend likes to say that players win games, managers lose them and umpires ruin them. Well, if that's the case, Gibson is doing an excellent job of not losing them.
EOB: Is Justin Upton your MVP?
NP: Maybe not yet. But he could be.
EOB: I'm guessing he's not on the trade market this winter...
NP: Uh, no. I'm not sure I understand why he was out there last winter.
EOB: Are they set up for the long haul?
NP: You would think so, yeah. They have literally no bad contracts -- not a one -- and they have a bunch of guys coming in the system, namely a few potential frontline-type starting pitchers in Jarrod Parker, Tyler Skaggs and Trevor Bauer. They'll have a few decisions to make in the next couple offseasons with core guys like Kelly Johnson, Stephen Drew and Miguel Montero set to become free agents, but they're in great position to retain who they want to retain and even should have money to spend to plug whatever holes might exist.
EOB: Finally, you're perhaps the hippest beat writer in the loop, what are you listening to right now?
NP: Heh. Is that like saying someone's the MVP of the Pacific Coast League? I've been fairly obsessed with the new Handsome Furs album (link to "Serve the People" with a note that the album art has a nekkid lady). And -- how's this for timing? -- I'm actually going tonight to see Cut Copy, an awesome band from Australia that have this catchy 80s-dance-pop thing going on (link here to "Far Away"). I've also been really into the new ones from Cults, Destroyer, Foster the People and others I can't think of right now.
Thanks to Nick and you can check out his blog here and on Twitter @NickPiecoro.
For more baseball news, rumors and analysis, follow @eyeonbaseball on Twitter or subscribe to the RSS feed.