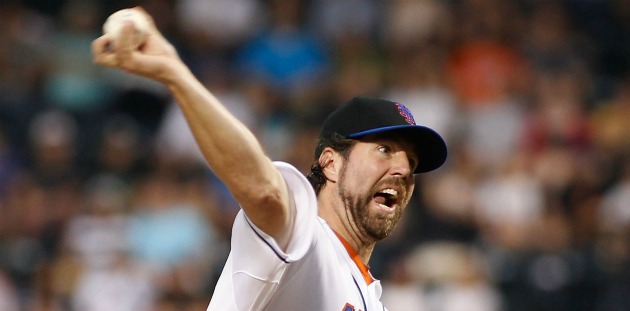 By C. Trent Rosecrans
On the scale of oddballness, there's left-handers and then there's knuckleballers -- and R.A. Dickey is living up to the reputation of knuckleballers being a little different. The Mets right-hander will climb Mount Kilimanjaro in January.
Dickey's climb will be a fundraiser for Red Light District Outreach Mumbai, which combats human trafficking in India. He also spoke to New York Magazine about his upcoming trek, which was inspired by reading Ernest Hemingway's The Snows of Kilimanjaro.
"I read the book in eighth grade -- when, of course, you don't have the means or wherewithal to tackle something like climbing Mount Kilimanjaro. I always thought it would be a fantastic pilgrimage to hike to the summit," Dickey told the magazine. "For years, I -- the way that we do -- we file things in our minds, in cabinets deep in the recesses of our brains. And then it just came back out. I'm including a couple of friends in the climb: Kevin Slowey from the Minnesota Twins and Dave Racaniello, the bullpen catcher for the New York Mets organization. We're going to the summit, Uhuru Peak, which is a little under 20,000 feet."
Dickey said the Mets have their concerns, but "I'm a grown man, and I can do what I want to do," although he noted if he does hurt himself they could void his contract.
Dickey said he's done triathlon training the past two offseasons to get ready for spring training and he's added some tweaks for the altitude. He did note that not only would the altitude effect his body, but also his knuckleball, which requires thicker air -- something that won't be available at the summit.
For more baseball news, rumors and analysis, follow @eyeonbaseball on Twitter or subscribe to the RSS feed.