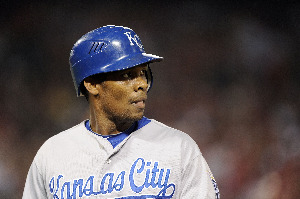 The people who do the accounting for the
Royals
would sure be happy if
Jose Guillen
's instincts are right.
The Royals designated hitter/outfielder
told MLB.com
he has a "gut feeling" he's going to be traded before Saturday's trade deadline. Even though he's the most productive member of the Kansas City offense, the going-nowhere Royals would love to offload the roughly $7.4 million left of the impending free agent's salary.
The
Giants
are on the hunt for an outfielder, but it's not clear how Guillen and his gimpy right knee would hold up playing the field every day. On the American League side, the
Yankees
and
Red Sox
could be interested. Guillen is batting .272/.331/.457 with 60 RBI and 16 homers, and has a history of playing well when he's auditioning for free agency, so he could be a valuable pickup for a contender that can spend the money.
Guillen's gut feeling could be caused by a comment Wednesday by general manager Dayton Moore that Triple-A slugger Kila Ka'aihue would join the team "at some point very shortly." Ka'aihue can only play first base, and first base is occupied nicely by
Billy Butler
, who's batting .312. That would indicate that Ka'aihue would DH, which is Guillen's spot most days.
"He's the boss and he knows what he's doing," Guillen said of Moore. "He knows more than us. I respect Dayton, he's a very smart man. He's going to do whatever it takes for this organization to improve. So I cannot tell you what's going to happen, but it's my gut feeling that something is going to happen."
-- David Andriesen


For more baseball news, rumors and analysis, follow @cbssportsmlb on Twitter.