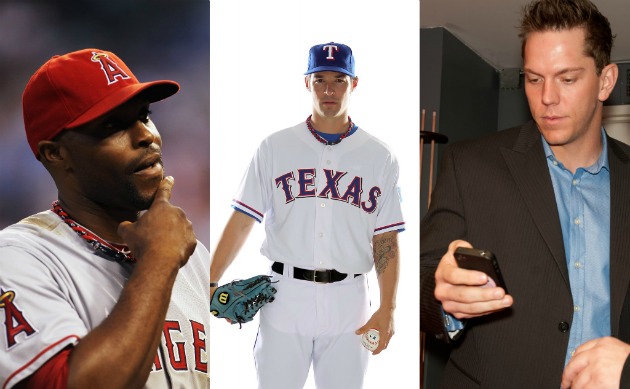 By C. Trent Rosecrans
Flight tracking is so last year -- this year's free agent trend is Twitter recruiting.
With rumors that left-hander C.J. Wilson may be down to the Marlins and Angels, a member of each team is making his case on Twitter to Wilson, who is also active on Twitter. So, we have the Marlins and Logan Morrison vs. the Angels and Torii Hunter.
Shortly before midnight Eastern on Wednesday, Hunter (@toriihunter48) tweeted Wilson (@str8edgeracer):

Morrison (@LoMoMarlins) jumped into the fray to help his team:

When the Nationals' Collin Balestar (@ballystar40) piped up about the "perfect weather" in SoCal, Morrison then responded again:

That got Hunter and Wilson to respond:


But Morrison wasn't finished with his pitch:

And, showing himself to be an amateur copy editor, Morrison also had a nice dig at a fan who tried to take a shot at him:

In the end, the Twitter recruiting isn't going to decide where Wilson ends up, dollars will. But in the meantime, it's fun to watch from the sidelines -- what else are you going to do, watch basketball?
Full Winter Meetings Coverage
|
Free Agent Tracker
For more baseball news, rumors and analysis, follow @eyeonbaseball on Twitter or subscribe to the RSS feed.