By Evan Brunell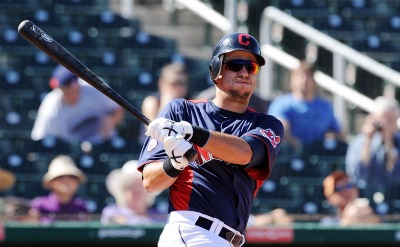 The future is looking bright in Cleveland -- and no, not just because the Indians are 8-4. The Indians have some top prospects in the minor leagues, led by third baseman Lonnie Chisenhall, who ranked No. 31 on the CBSSports.com's top 100 prospects rankings.
Chisenhall is just 22, but there were calls for him to break camp with the team out of spring training thanks to hitting .500. While Cleveland resisted the temptation, his arrival looks to happen at some point this season and could break through as the best hitter in the lineup. Those are fighting words given the presence of catcher Carlos Santana, but Indians farm director Ross Atkins believes Chisenhall's left-handed swing is better than Santana's.
But unlike Santana, Atkins feels Chisenhall isn't quite ready for prime time.
"Right now, he doesn't quite have the discipline to wait for his pitch consistently," Atkins told the Akron Beacon Journal. "He's an early swinger who likes the ball down and away. Triple-A pitching will help exploit that."
Indeed, in the early going, Chisenhall has a .258 average at Triple-A over 35 plate appearances, although he's walked three times and has a .516 slugging percentage, so he's adjusting just fine. What he'll need to do down in Triple-A is adjust to off-speed pitching as he is a fastball hitter.
''The truth is, there's some things I can do at the major-league level [now], and there's some things I can't," Chisenhall admitted. "Right now I'm working on lefty-lefty matchups offensively and looking to become a better defender at third base. ... But I feel more comfortable every game out there and a lot better than I did last year."
The other aspect of his game Chisenhall must work on is defense. He had 17 errors in 96 games in Double-A last year, numbers that won't fly.
"He's completing the transition of becoming a major-league reliable third baseman,'' Atkins said. ''There's nothing physically to say he won't be [a good defender]," Atkins said. "It's just a matter of continuing to get comfortable with his positioning and the subtleties and nuances of third base."
Before long, Chisenhall will hit the bigs. The smart money would be on a September promotion with an eye toward starting full-time in 2012, but Chisenhall could force Cleveland's hand before then. Whenever he does come up, he'll pair with Santana along with fellow top prospect Jason Kipnis -- currently playing second for Triple-A -- to form an impressive young trio.
For more baseball news, rumors and analysis, follow @cbssportsmlb on Twitter or subscribe to the RSS feed.