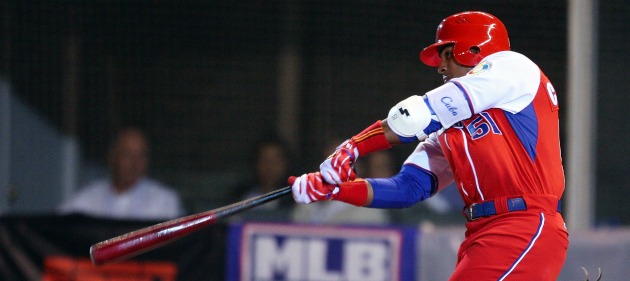 By C. Trent Rosecrans
There are plenty of differences between life in Cuba and in the United States -- and while I'm no expert on Cuba (besides my two years living in Guantanamo Bay while in elementary school), I'm guessing the free agency process is something Cespedes hasn't experienced before.
One of the keys to this process is leverage -- and if he wants to play in Miami, he's doing it wrong. In Miami on Wednesday to visit the
Marlins
-- the first leg of what is expected to be a tour -- Cespedes arrived at the airport and briefly spoke to the assembled media.
"It would be good [to play here]" Cespedes told "half a dozen media members" at the airport (
via Juan C. Rodriguez of the Sun Sentinel
). "There are a lot of Cubans and they would support me a lot. Hopefully I can play for the Marlins."
Or maybe I'm wrong and he doesn't want to play in Miami and he's being ultra-savvy to get the Chicago teams to up their offers.
Rodriguez also notes that in addition to the usual suspects of Cespedes admirers -- the
White Sox
,
Cubs
,
Orioles
and
Tigers
-- the
Indians
and
Athletics
are also interested in signing Cespedes.
The 26-year-old center fielder is going to sign for a lot of money, wherever it is. So far, estimates have been for as "little" as $35 million and as much as $60 million.
Cespedes donned a hard hat for his walkthrough at the almost-completed park in Miami's "Little Havana" neighborhood. In Spanish, he said he believes the Marlins "can compete for a World Series" as early as this season.
Cespedes can't sign with a team until he's cleared by the U.S. Treasury's Department of Foreign Assets Control, but he can negotiate and agree upon a deal. His agent, Adam Katz, has said he expects Cespedes to start spring training on time, but the only question is where.
For more baseball news, rumors and analysis, follow @EyeOnBaseball on Twitter, subscribe to the RSS feed and "like" us on Facebook.