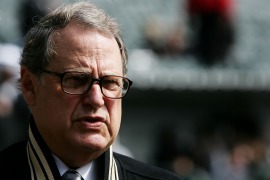 It sounded outlandish three weeks ago when the
Chicago Sun-Times
reported
that the
White Sox
had been willing to let manager Ozzie Guillen bolt for the Florida
Marlins
-- in exchange for outfielder Mike Stanton.
Turns out it was true. Partially. White Sox chairman Jerry Reinsdorf
has confirmed
to the
Sun-Times
that such a scenario was in place, though he said Stanton was not the player he asked for. Reinsdorf also indicated he had no expectation that the Marlins would take him up on the offer.
"The Marlins asked for permission to talk to Ozzie, and we told them we'd let Ozzie go if they gave us a particular player," Reinsdorf said. "But we knew they couldn't give us the player."
If it wasn't Stanton, the 21-year-old power hitter, speculation is that it was fellow rookie outfielder
Logan Morrison
-- arguably just as steep a price to pay for a manager.
''We were never going to let Ozzie go, but if they would have given us this particular player, I would have let anybody go. ... Everybody is available at a price. The only player I had that wasn't available was Michael Jordan,'' said Reinsdorf, who is also the owner of the Chicago Bulls.
Reinsdorf also denied numerous reports that the contentious (and that's an understatement) relationship between Guillen and general manager Kenny Williams reached the point where both asked the owner to choose between them.
"That doesn't mean they'll both be here the same length of time, though," Reinsdorf said. "But I don't ever see a situation where either one of them says 'It's me or him.'"
-- David Andriesen
For more baseball news, rumors and analysis, follow @cbssportsmlb on Twitter or subscribe to the RSS feed.