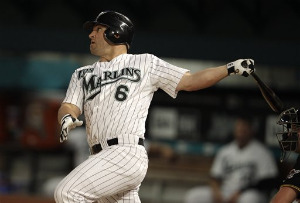 "Let's face it: Matt Dominguez's coming," president of baseball operations Larry Beinfest said, when addressing the team's offseason needs Sunday
to the Palm Beach Post
.
Dominguez was the club's first-round draft pick in 2007, going 12th overall.
On the face of it, saying that Dominguez could help the
Marlins
make the postseason in 2011 sounds ridiculous as the 21-year-old hit .252/.333/.411 in 577 plate appearances at the Double-A level.
However, Beinfest and the Marlins plan to focus more on pitching and defense after seeing the Fish commit 123 errors -- fifth in baseball, with Washington leading the way with 127 flubs. "There are a couple of teams playing on the West Coast [Sunday] that are probably playing for the post-season off their pitching and their defense,' he said, referring to the San Francisco
Giants
and San Diego
Padres
.
Dominguez is considered to have major-league ready defense and could already rank as one of the best third basemen in the game on D.
"If Matt Dominguez wants to push and he's ready to play in the big leagues, that's great," Beinfest said.
One slight problem. If Dominguez plays third, what happens to incumbent
Chris Coghlan
, who was the 2009 Rookie of the Year? If Coghlan moves back to left field, that would bump
Logan Morrison
out of left. Given Morrison is a natural first baseman who made some flubs in left, that's not a terrible idea -- except rookie
Gaby Sanchez
put together a strong season at first.
"We know Chris can play the outfield. If something happens in the off-season and we make some changes, we know he can go back out there,' Beinfest said.
How about second base, the position Coghlan played in the minors?
Possible, except for one problem:
Dan Uggla
, entering the final year of arbitration-eligibility, has that position locked up as one of the best power-hitting keystoners in the game's history.
"I know there's going to be a lot of intrigue with, 'What do you do with all these position players when Chris comes back?' I think it's a good thing. It's a good problem,' Beinfest said.
The penny-pinching Fish could opt to trade Uggla (pictured), shift Coghlan to second and call up Dominguez for third. However, despite the team being so far apart on contract extension talks with Uggla, the second baseman figures to return to town after a year in which the Marlins were reprimanded for not spending enough and seeing their team financials leaked out. In addition, the Marlins are gearing up for a new stadium in 2012, which should provide an infusion of dollars.
"Just the way he plays the game — the grit, the toughness that he brings to this team — is so vital, so important," Beinfest said of Uggla, while declining to talk about how contract talks have gone thus far. "He should be commended not so much for the 30 home runs, but for the way he plays the game."
Pitching also was a topic of discussion, with Beinfest noting that "there needs to be more depth. There needs to be more quality."
Pitching in front of the bullpen is largely settled, however.
Josh Johnson
,
Ricky Nolasco
,
Anibal Sanchez
and
Chris Volstad
are locked into rotation spots, leaving just the fifth starter's spot up for grabs. Given the incumbents are all right-handed, figure on the Marlins reviewing left-handed options on the market, such as
Erik Bedard
,
Bruce Chen
,
Doug Davis
,
Jeff Francis
and
Hisanori Takahashi
.
"I think that is quality starting pitching,' Beinfest said of the way the rotation is lining up. "That can be the type of starting pitching that can take you deep into October.'
-- Evan Brunell
For more baseball news, rumors and analysis, follow @cbssportsmlb on Twitter or subscribe to the RSS feed .