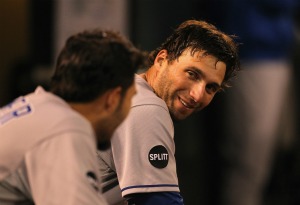 By C. Trent Rosecrans
The story, no doubt, at McAfee Coliseum in Oakland was right-hander Guillermo Moscoso, but there was something else that was more rare than a no-hitter that happened in Wednesday's game -- a 9-3 putout.
Kansas City's Jeff Francoeur threw out Oakland rookie Michael Taylor at first to end the second inning of the A's 7-0 victory over the Royals. It was just the fifth 9-3 putout in the American League since 1974 -- a span that has seen 47 no-hitters in the AL alone. The play is less rare in the National League, where it has been done 31 times since 1974, including once by Francoeur who got Padres pitcher Mat Latos at first.
Since coming up to the big leagues in 2005, Francoeur has 97 outfield assists -- the most in baseball over that span. However, Wednesday was the first time he got a position player.
"I wasn't even thinking about it," Francoeur told the Associated Press. "The ball was just laced at me, with the perfect hop and I just let it go. You kind of feel bad because you do it to a guy who is playing his fourth game in the big leagues, but that was really fun."

See the play here:


"I knew it was going to be a close play," Taylor told MLB.com. "I hit it and knew I hit it right at him. I took off and it hopped right to him, and he made a strong throw. It was a great play. He did everything he was supposed to do, and I did what I was supposed to do, and he came out on top."

Francoeur also got Jemile Weeks in the first inning on Coco Crisp's double with a little help from cutoff man Johnny Giavotella.
Kansas City leads the majors this season with 48 outfield assists, 25 of them have come at home plate. While Francoeur now has 15 outfield assists on the season, he's second on the team in the category to left fielder Alex Gordon, who has 20 outfield assists. Center fielder Melky Cabrera has 12 and Mitch Maier has one.
As for the other side of the play, Taylor isn't exactly a Molina brother. The 25-year-old outfielder has 75 stolen bases in his minor-league career and 15 triples and appeared to be running out of the box (there's only so much that gets caught on camera). In the sixth inning, he even added an infield single -- even if he couldn't beat out the hit to the outfield earlier in the game. He added a defensive highlight of his own on the very next play -- catching a foul ball off the bat of Savlador Perez after it popped out of his own glove (see it here).
For more baseball news, rumors and analysis, follow @eyeonbaseball on Twitter or subscribe to the RSS feed.