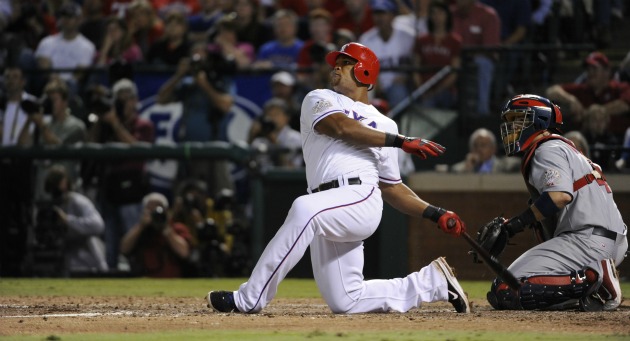 By Matt Snyder
ARLINGTON, Texas -- The
Rangers
have moved ahead in the World Series, 3-2, and are just one game shy of their first World Series championship. Here are some of the post-game notes and quotes from Rangers Ballpark. Oh, and the picture of
Adrian Beltre
's home run from his knee is here just because it was funny. No other reason.
• Of the previous 41 World Series that entered Game 5 tied at two, the Game 5 winner went on to win the series 27 times (66 percent). So while it's definitely not over, odds and history are on the Rangers' side.
• "Pujols is going to put it in play, he's a good contact hitter, and they were just starting the runner, 3-2. As soon as I got it, I just got rid of it and put it on the bag." - Rangers catcher
Mike Napoli
said of the huge strike-him-out-throw-him-out play in the ninth, which seemed to ice the game.
• Remember the
Cardinals
' "happy flight" mantra? How they were on a huge streak of always flying either home or away coming off a victory. Well, both flights in this World Series are following losses. So now they're having sad flights.
• "It was just a mix up. It was a mix up and on our team, no one gets thrown under the bus, so it was just a mix up." - Cardinals manager Tony La Russa on
Allen Craig
's attempted stolen base with
Albert Pujols
at the plate in the seventh. Craig was thrown out by Napoli and then Pujols was intentionally walked. Had Craig made it, Pujols would have been intentionally walked, so it was obviously a mistake. But we know La Russa definitely didn't call for it.
•
C.J. Wilson
walked 19 hitters this postseason, which ties Jaret Wright (1997,
Indians
) for the most ever. If Wilson comes back in relief in Game 7 -- which he wouldn't rule out when talking to reporters after Game 5 -- he'll have a good shot at dubious history.
• Monday was the birthday for both
Arthur Rhodes
(42) and Rafeal Furcal (34).
• The Cardinals set a record Monday night. They have made 65 pitching chances in the playoffs this year. The previous high was 62, established by the 2002
Giants
. I have to say, I'm
shocked
Tony La Russa was behind this.
• "Just trying to get something to the outfield, you know, get a sac fly, get that run across the board," Napoli said of his huge two-RBI double. "I was trying to stay short and I got a pitch I could handle over the middle of the plate and put it in the gap."
• "I don't know, I mean, not really," Napoli said when asked if he was surprised to see left-hander
Marc Rzepczynski
in the game to face him in the bottom of the eighth. "I had Mitch hitting behind me who was a lefty and I didn't really see anyone warming up in the bullpen.
• "I wanna be a complete player," Napoli said when asked about his defense. "I'm trying hard on the defensive side."
• Cowboys great Roger Staubach threw out the first pitch. Did he practice? "I did, yeah. I was throwing really good in practice, you know. But it's a little different on that rubber. It's a downhill slant. I played baseball, so I should have -- I threw it really hard. That was my problem. I probably should have just -- it was a little low. I mean, it wasn't a strike."
• Rangers president Nolan Ryan on Ron Washington's dugout antics: "It's pure. It's not a show. He gets so wrapped up into the game and is so in tune to what's happening that that's just him and his personality reacting to the situation, and the joy that those things bring to him shows."
•
Derek Holland
loves Mario -- of the video game series -- so much so that he has a "Super Mario" balloon likeness in his locker. "He's really fragile, so I just leave him here all the time."
For more baseball news, rumors and analysis, follow @EyeOnBaseball on Twitter or subscribe to the RSS feed.