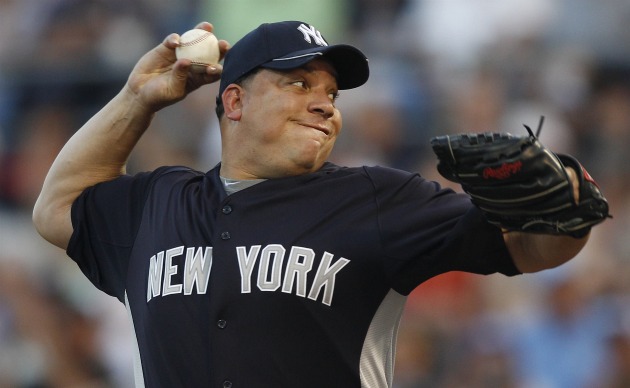 By C. Trent Rosecrans
3 UP
1. Bartolo Colon, Yankees -- While many scoffed at the idea of Colon coming back after a year off and joining the Yankees' rotation, he's certainly making his case. Colon, 37, had another strong outing on Monday. Colon retired 18 of the 20 batters he faced, including five strikeouts. He allowed two hits and a run. In 15 innings this spring, he has a 2.40 ERA, with 17 strikeouts and one walk.
2. Joe Mauer, Twins -- It's not just that Mauer had two hits and an RBI against the Pirates on Monday, but he also caught six innings. It was Mauer's second start behind the plate of spring.
3. Mets second basemen -- Now that the Luis Castillo soap opera is behind us, the Mets four remaining candidates for the second base job all contributed in a four-run ninth to lead New York past Atlanta. Brad Emaus, Daniel Murphy and Luis Hernandez each had run-scoring hits, while Justin Turner was hit by a pitch.
3 DOWN
1. Arizona -- Isn't Arizona supposed to be a desert? Six Cactus League games were banged on Monday because of rain.
2. Mike Pelfrey, Mets -- The Mets' opening day starter was pounded for seven runs (four earned) and seven hits by the Braves. Pelfrey allowed six consecutive hits to start the ending and when it appeared he'd actually record an out, David Wright's error allowed another run to score. He finally retired the eight batter of the inning, only to be lifted due to a high pitch count.
3. Some fans -- Rays manager Joe Maddon had a fan tossed from Sunday's game after the fan made racial comments toward outfielder B.J. Upton. Upton said Monday that he heard the comments, but was more worried about his game. Upton said it's not the first time he's heard such comments (via MLB.com) -- "A lot of times, it happens when I'm in the outfield of a visiting stadium. Even I've heard it at home, too. I think it was just a situation where everyone heard it. Put it this way -- it's not too far-fetched to hear it." That's not surprising, but it's still sad.
For more baseball news, rumors and analysis, follow @cbssportsmlb on Twitter or subscribe to the RSS feed.